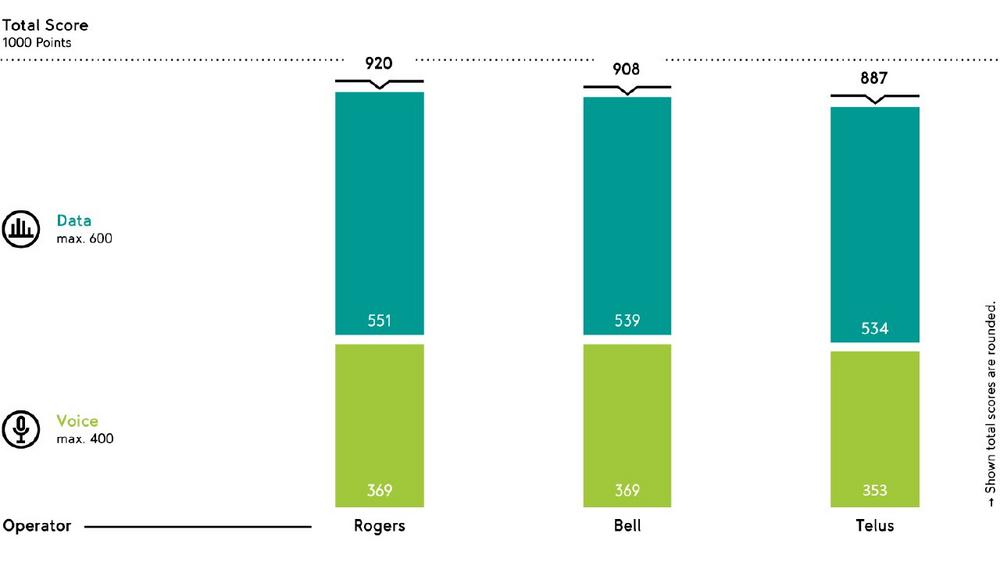 Two in a row: Rogers again achieves BEST in TEST in the umlaut Mobile Benchmark Canada
umlaut (formerly P3), the global consultancy company and world leader in mobile network testing and benchmarking, has named Rogers as the BEST IN TEST operator in Canada winning the umlaut Mobile Benchmark for the second year in a row. umlaut frequently tests mobile networks in more than 120 countries around the world, and the umlaut methodology is globally acknowledged as the de-facto industry standard. In Canada, umlaut tested and measured Bell, Rogers and Telus' network performance using smartphones for voice and data performance – in major metropolitan areas, smaller cities and on connection roads. Rogers is the overall winner, Bell comes in second, followed by Telus.
"Congratulations to Rogers on winning our Mobile Benchmark for the second time in a row. With our unique testing and scoring methodology, we focus on the customer's network experience and cover a wide range of mobile services, including popular use cases. We see Rogers ahead of the competition overall," says Hakan Ekmen, CEO of umlaut Telecommunication.
The umlaut Mobile Benchmark Canada measurements were conducted between March 16 and June 3, 2020. They were based on extensive drivetests that took place in cities and towns as well as on connecting roads, measuring a distance of 18,624 kilometres.
Rogers is leading operator and achieved highest score with 920 points
With a score of 920 out of a maximum of 1,000 points, Rogers did best overall. Its closest competitor Bell is 12 points behind, with a total score of 908. Telus is third and achieved a total score of 887 points. In terms of Data, Rogers achieved the highest score with 551 points, Bell follows with 539 points and Telus with 534. In terms of Voice, Rogers and Bell both achieved the highest score with 369 points, Telus achieved 353.
In 2019, Rogers also achieved the Best in Test award with a score of 857 points – a jump of 63 points in one year. Bell and Telus have also improved, Bell from 837 to 908 points, Telus from 826 to 887 points. Thus, all operators have noticeably improved their score within one year.
Testing methodology
umlaut tested and measured the performance of its voice and data services on smartphones in comparison to other LTE/UMTS/GSM mobile radio networks in metropolitan and rural areas of Canada. The audit was done as a performance benchmark performed by umlaut in cities and towns as well as on connection roads. Dedicated measurements have been executed as drive tests outdoors using a Samsung Galaxy S9 cat16 Smartphone 1000 Mbit/s Download / 105 Mbit/s Upload. All data measurements have been performed in 4G preferred mode. Voice measurements have been done in 4G/4G preferred mode on both sides, while call origin has been alternated.
About the umlaut score
The independent methodology of umlaut assures a fair, transparent and neutral evaluation of the networks under test. umlaut evaluates more than 200 mobile networks in more than 120 countries worldwide with their unique scoring method. The methodology is acknowledged as the de-facto industry-standard and provides a unique measure for management and supervisory boards to compare their networks with others, and for customers to make better decisions for their subscriptions.
For more information please visit: https://www.umlaut.com/…
Über umlaut
umlaut is a global, full-service, cross-industry, end-to-end company that offers advisory and fulfilment services to clients all over the world. In-depth domain expertise, broad practical knowledge and interdisciplinary collaboration allow them to add value, quality and focus to their clients' organizations, services and products, in disruptive times in which industries are increasingly converging.
Within an able and agile collective of 20 consultancies and engineering firms spread across 50 locations all over the world, 4,500 specialized experts and engineers provide innovative solutions and transformations across all industries and their various intersections as well as serving the public sector and developing organizational cultures, structures and processes.
For more information please visit: www.umlaut.com.
Firmenkontakt und Herausgeber der Meldung:
umlaut
Am Kraftversorgungsturm 3
52070 Aachen
Telefon: +49 (241) 9437-450
Telefax: +49 (241) 9437-430
http://www.umlaut.com/
Ansprechpartner:
Bettina Leutner
Pressestelle umlaut communications GmbH
Telefon: +49 (40) 4011310-10
E-Mail: news@umlaut.com
Für die oben stehende Pressemitteilung ist allein der jeweils angegebene Herausgeber (siehe Firmenkontakt oben) verantwortlich. Dieser ist in der Regel auch Urheber des Pressetextes, sowie der angehängten Bild-, Ton-, Video-, Medien- und Informationsmaterialien. Die United News Network GmbH übernimmt keine Haftung für die Korrektheit oder Vollständigkeit der dargestellten Meldung. Auch bei Übertragungsfehlern oder anderen Störungen haftet sie nur im Fall von Vorsatz oder grober Fahrlässigkeit. Die Nutzung von hier archivierten Informationen zur Eigeninformation und redaktionellen Weiterverarbeitung ist in der Regel kostenfrei. Bitte klären Sie vor einer Weiterverwendung urheberrechtliche Fragen mit dem angegebenen Herausgeber. Eine systematische Speicherung dieser Daten sowie die Verwendung auch von Teilen dieses Datenbankwerks sind nur mit schriftlicher Genehmigung durch die United News Network GmbH gestattet.