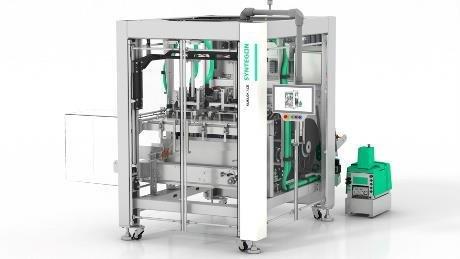 Syntegon goes live at PACK EXPO Connects 2020
.
Syntegon participates in virtual event PACK EXPO Connects
Video and Q&A sessions showcase intelligent and sustainable technologies
Processing and packaging solutions for food and pharmaceutical industries
Comprehensive services and digital solutions portfolio
Since the in-person PACK EXPO International and Healthcare Packaging EXPO have been cancelled, the process and packaging technology specialist Syntegon is presenting its latest solutions at the virtually-hosted PACK EXPO Connects from November 9 to 13, 2020. In a series of video and Q&A sessions, Syntegon is showcasing its intelligent and sustainable technologies for the pharmaceutical and food industries – including customer services and digital solutions. Visitors can now register for PACK EXPO Connect sessions free of charge. The recordings of the Syntegon sessions remain online until March 2021.
Processing and packaging technology for a better life – an appropriate mission
Due to COVID-19, major industry events and trade shows have been cancelled all over the world. This has not discouraged Syntegon from engaging with its international customers in the food and pharmaceutical industries. Quite the contrary: PACK EXPO Connects marks the second online event for Syntegon this year after their own virtual trade show in May. In times like this, the company is more determined than ever to improve the lives of consumers and patients by offering brand owners intelligent and sustainable solutions, including customer services and digital solutions.
Food exhibits: focus on sustainable solutions
For the food industry, Syntegon is showcasing its primary and secondary packaging portfolio, with a focus on sustainable solutions. In flow wrapping and bagging, Syntegon machines can run fully recyclable mono-material films and paper films. Carton blanks made from recycled fibres or grass fibre can be processed on their secondary and transport packaging equipment. Scroll through the online gallery to find out more about Syntegon's solutions for the food industry.
Pharmaceutical exhibits: long-standing processing and packaging expertise
For the pharmaceutical industry, Syntegon is demonstrating its long-standing processing and packaging expertise for solid dosage forms. With regard to liquid pharmaceuticals, Syntegon is presenting solutions ranging from small and micro batch sizes to high-performance machines. Participants will also gain insight into Syntegon's latest and most advanced automatic inspection technology and solutions for high-potent drug processing. Scroll through the online gallery to find out more about Syntegon's solutions for the pharmaceutical industry.
Services and digital solutions round off Syntegon's PACK EXPO Connects exhibits
Syntegon is also presenting solutions from their new Service and Digital Solutions business unit, namely the remote service assistant, the Digital Shopfloor solutions, upgrade kits for Kliklok controls and upgrades for Kliklok and Woodman machines – two Syntegon brands.
The online PACK EXPO Connects event is organized by PMMI and runs from November 9 to 13. Syntegon is presenting its processing and packaging exhibits in a virtual showroom as well as hosting a series of video and Q&A sessions. The showroom and session recordings remain accessible online after the event. The online gallery give an overview of the Syntegon technologies on show at PACK EXPO Connects.
Über die Syntegon Technology GmbH
Syntegon Technology is a leading global process and packaging technology provider. Formerly the packaging division of the Bosch Group, the company, headquartered in Waiblingen (Germany), has been offering complete solutions for the pharmaceutical and food industries for over 50 years. More than 6,100 employees at 30 locations in more than 15 countries generated a total revenue of 1.3 billion euros in 2019. The portfolio of intelligent and sustainable technologies includes stand-alone machines, as well as complete systems and services. Fields of application in the pharmaceutical industry are the production, processing, filling, inspection and packaging of liquid and solid pharmaceuticals (e.g. syringes and capsules). In the food industry, the portfolio includes process technology for confectionery as well as packaging solutions for dry foods (e.g. bars, bakery products and coffee), frozen foods and dairy products.
Firmenkontakt und Herausgeber der Meldung:
Syntegon Technology GmbH
Stuttgarter Str. 130
71332 Waiblingen
Telefon: +49 (7151) 14-0
http://www.syntegon.com
Ansprechpartner:
Amy Cowan
Commha Consulting
Telefon: +49 (6221) 18779-43
E-Mail: syntegon@commhaconsulting.com
Nicole König
Product Communications
Telefon: +49 (7951) 402-648
E-Mail: nicole.koenig@syntegon.com
Für die oben stehende Pressemitteilung ist allein der jeweils angegebene Herausgeber (siehe Firmenkontakt oben) verantwortlich. Dieser ist in der Regel auch Urheber des Pressetextes, sowie der angehängten Bild-, Ton-, Video-, Medien- und Informationsmaterialien. Die United News Network GmbH übernimmt keine Haftung für die Korrektheit oder Vollständigkeit der dargestellten Meldung. Auch bei Übertragungsfehlern oder anderen Störungen haftet sie nur im Fall von Vorsatz oder grober Fahrlässigkeit. Die Nutzung von hier archivierten Informationen zur Eigeninformation und redaktionellen Weiterverarbeitung ist in der Regel kostenfrei. Bitte klären Sie vor einer Weiterverwendung urheberrechtliche Fragen mit dem angegebenen Herausgeber. Eine systematische Speicherung dieser Daten sowie die Verwendung auch von Teilen dieses Datenbankwerks sind nur mit schriftlicher Genehmigung durch die United News Network GmbH gestattet.