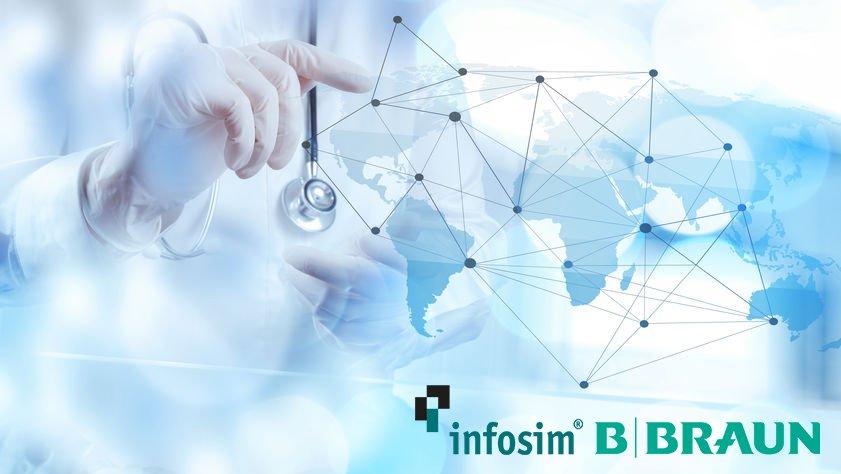 Infosim® and B. Braun strengthen partnership with extension of automated network management services
A cutting edge manufacturer of medical technology and pharmaceutical products and services worldwide, B. Braun Melsungen AG has been using the industry-leading unified network and services management platform StableNet
®
by Infosim
®
to secure and maintain its network infrastructure. Starting immediately, the cooperation has been extended to include new services and features for automated network management.
The relationship between the two German firms began with the Phase 1 rollout in November, 2019. Since then, StableNet® has been implemented for network monitoring, backup, fault management, network automation, and REST interfaces. The most recent extension will see the inclusion of further platform functionalities, including network configuration and change management (NCCM) and external Wi-Fi measurements. With over 64,000 employees in 64 countries, B. Braun continues to demonstrate its commitment to maintaining a healthy network infrastructure.
"We are pleased to continue to support B. Braun in automating their core business processes," said Infosim® CEO Dr. Stefan Köhler, "and look forward to future projects together."
"Standardization and automation is a key factor for the IT infrastructure team at B. Braun to
provide a stable global IT infrastructure that meets business requirements", says Ralf Hott, Senior Manager Network and Security at B. Braun. "Stablenet® offers us a solution that meets our requirements for managing our global network. With Infosim we have a customer-oriented partner who supports us in realizing our goals."
Über die Infosim GmbH & Co. KG
Infosim® is a leading provider of automated Service Fulfillment and Service Assurance solutions for Telcos, ISPs, Managed Service Providers, and Corporations. Since 2003, Infosim® has been developing and improving upon StableNet® for its Telco and Enterprise customers. Infosim® is privately held with offices in Germany (Wuerzburg – Headquarters), USA (Austin, TX), and Singapore. Infosim® takes pride in the engineering excellence of its high quality and high performance products, made possible by its team of highly-skilled and committed employees. All products are available for a trial period and professional services for proof of concept (POC) can be provided upon request.
Infosim® develops and markets StableNet®, the leading unified network and services management platform with a 4-in-1 solution that combines Inventory, Configuration, Fault, and Performance Management. It is available in two versions: Telco (for Telecom Operators and ISPs) and Enterprise (for IT and Managed Service Providers). Given the many operational and technical challenges of managing distributed and mission-critical IT infrastructures, StableNet® is the vendor-independent solution in today's multi-vendor environment.
B. Braun
With over 64,000 employees in 64 countries, the family-owned company B. Braun is one of the world's leading suppliers of solutions for the healthcare market and provides users and patients with products and product systems for anesthesia, intensive care, cardiology, extracorporeal blood treatment, surgery or home care, as well as services for hospitals and general practitioners. In 2019, the Group generated sales of €7.5 billion.
Firmenkontakt und Herausgeber der Meldung:
Infosim GmbH & Co. KG
Landsteinerstraße 4
97074 Würzburg
Telefon: +49 (931) 20592-200
Telefax: +49 (931) 20592-209
https://www.infosim.net/
Ansprechpartner:
Dr. David Toumajian
Telefon: +49 (931) 20592200
E-Mail: toumajian@infosim.net
Für die oben stehende Pressemitteilung ist allein der jeweils angegebene Herausgeber (siehe Firmenkontakt oben) verantwortlich. Dieser ist in der Regel auch Urheber des Pressetextes, sowie der angehängten Bild-, Ton-, Video-, Medien- und Informationsmaterialien. Die United News Network GmbH übernimmt keine Haftung für die Korrektheit oder Vollständigkeit der dargestellten Meldung. Auch bei Übertragungsfehlern oder anderen Störungen haftet sie nur im Fall von Vorsatz oder grober Fahrlässigkeit. Die Nutzung von hier archivierten Informationen zur Eigeninformation und redaktionellen Weiterverarbeitung ist in der Regel kostenfrei. Bitte klären Sie vor einer Weiterverwendung urheberrechtliche Fragen mit dem angegebenen Herausgeber. Eine systematische Speicherung dieser Daten sowie die Verwendung auch von Teilen dieses Datenbankwerks sind nur mit schriftlicher Genehmigung durch die United News Network GmbH gestattet.