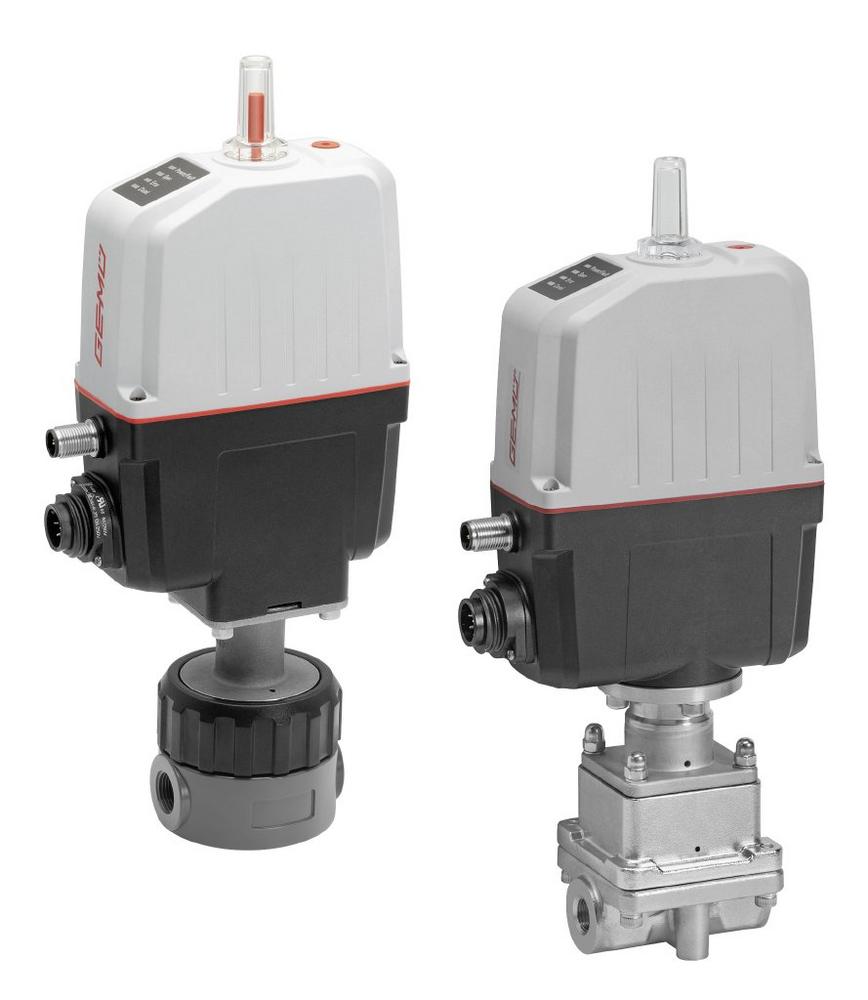 Product launch for the GEMÜ R563 eSyStep control valve and expansion of the GEMÜ 566 control valve with GEMÜ eSyStep actuator
GEMÜ, a manufacturer of high-quality valves, measurement and control systems, launches the GEMÜ R563 eSyStep, a new control valve with a motorized actuator. The valve specialist has also expanded the GEMÜ 566 control valve with the GEMÜ eSyStep actuator.
The GEMÜ R563 eSyStep control valve is preferably used for control applications with low flow rates. With Kv values from 63 l/h to 3300 l/h, it is possible to react to customer-specific control parameters. Due to the use of selected plastics and elastomers in the media wetted area, the valve has a wide range of uses and can be used with a wide variety of media, for example for supplying water for mixing precise ratios of acid and lye in ion exchangers.
The GEMÜ R563 eSyStep is also used in winter service vehicles. The proportion of brine in the road salt is regulated by the motorized control valve. The brine tanks are equipped with sensors and an automatic water supply to keep the proportion of salt and water at the optimum ratio at all times.
The GEMÜ 566 control valve can also be used to control minimal volumes thanks to its Kv values of 63 l/h up to 2500 l/h, each with an equal-percentage and linear control characteristic. The separation between the media wetted area and the actuator component is achieved by an isolating diaphragm. The diaphragm is available in EPDM or FPM materials. In addition to the pneumatically and manually operated actuators already available, a design with the GEMÜ eSyStep motorized actuator will also be available in future.
General information on the GEMÜ eSyStep actuator
GEMÜ eSyStep is a universal actuator for open/closed and simple control applications and consists of a compact spindle actuator with stepper motor and an integrated IO-Link interface for exchanging process data. A positioner is integrated as standard. Further components and accessories can be fitted using an interface. An emergency power supply module can be used to configure the actuator to a safety position. The self-locking actuator holds its position in a stable manner when idle and in the event of power supply failure. The actuating speed is a maximum of 3 mm/s.Thanks to its slim design, the actuator is also perfect for block solutions. The actuator is also used in the GEMÜ 543 angle seat globe valves and GEMÜ 533 straight globe valves.
With the product range expansion in the field of motorized valves with the GEMÜ eSyStep actuator, GEMÜ offers attractive alternatives to compressed air systems.
Über die GEMÜ Gebr. Müller Apparatebau GmbH & Co. KG
The GEMÜ Group develops and manufactures valves, measurement and control systems for liquids, vapours and gases. GEMÜ is a global market leader when it comes to solutions for sterile applications.
The globally focused, independent family-owned enterprise was founded in 1964. In 2011, Gert Müller took over as Managing Partner together with his cousin Stephan Müller, becoming the second generation to run the company. The Group achieved a turnover of over €330 million in 2019 and currently employs over 1900 members of staff worldwide, over 1100 of whom are in Germany. They have six manufacturing locations: Germany, Switzerland and France, as well as China, Brazil and the USA. Their worldwide marketing is carried out across 27 subsidiaries, coordinated from Germany. Thanks to a large network of commercial partners, GEMÜ is now active in over 50 countries on all continents.
Please visit [url=http://www.gemu-group.com]www.gemu-group.com[/url] for further information.
Firmenkontakt und Herausgeber der Meldung:
GEMÜ Gebr. Müller Apparatebau GmbH & Co. KG
Fritz-Müller-Straße 6-8
74653 Ingelfingen-Criesbach
Telefon: +49 (7940) 123-0
Telefax: +49 (7940) 123-192
http://www.gemu-group.com
Ansprechpartner:
Ivona Meißner
Corporate Communication
Telefon: +49 (7940) 123-708
Fax: +49 (7940) 123-487
E-Mail: ivona.meissner@gemue.de
Für die oben stehende Pressemitteilung ist allein der jeweils angegebene Herausgeber (siehe Firmenkontakt oben) verantwortlich. Dieser ist in der Regel auch Urheber des Pressetextes, sowie der angehängten Bild-, Ton-, Video-, Medien- und Informationsmaterialien. Die United News Network GmbH übernimmt keine Haftung für die Korrektheit oder Vollständigkeit der dargestellten Meldung. Auch bei Übertragungsfehlern oder anderen Störungen haftet sie nur im Fall von Vorsatz oder grober Fahrlässigkeit. Die Nutzung von hier archivierten Informationen zur Eigeninformation und redaktionellen Weiterverarbeitung ist in der Regel kostenfrei. Bitte klären Sie vor einer Weiterverwendung urheberrechtliche Fragen mit dem angegebenen Herausgeber. Eine systematische Speicherung dieser Daten sowie die Verwendung auch von Teilen dieses Datenbankwerks sind nur mit schriftlicher Genehmigung durch die United News Network GmbH gestattet.