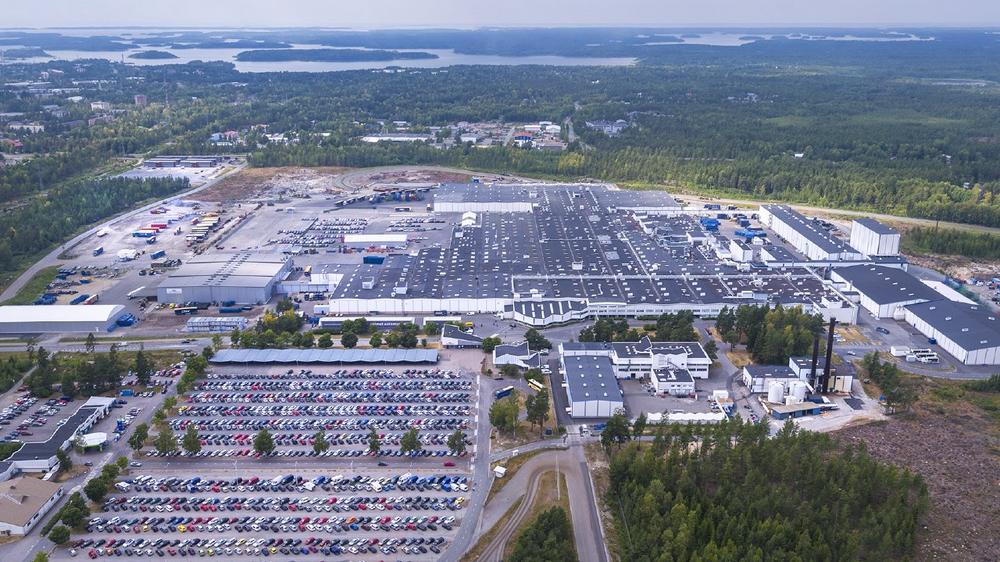 Valmet Automotive signs second customer deal for Uusikaupunki battery plant
Valmet Automotive has signed a second battery manufacturing contract with a major automotive OEM for the Uusikaupunki, Finland battery plant. The construction work at the Uusikaupunki battery plant site is proceeding as planned, with the production launch scheduled for the latter half of 2021. Production operator recruitments will start during spring this year
.
The new contract further strengthens Valmet Automotive's position as a main automotive battery systems provider, and it is yet another important step towards the company's Tier-1 system supplier role in batteries and its strategic goal to expand the EV Systems business line. Details of the new contract can not be disclosed at this time.
Construction work is currently ongoing at the Uusikaupunki plant to transform areas formerly occupied by vehicle manufacturing business line into battery production areas. In addition to the work on parts of the existing plant's interior, the battery plant makes it also necessary to expand the plant building.
The Uusikaupunki battery plant will be complementing the Salo plant in Valmet Automotive's offering. The Salo plant is currently focusing on automotive batteries with an option to later expand to batteries of industrial applications. In battery contract manufacturing, Valmet Automotive is already one of the globally leading providers, with a capacity of hundreds of thousands of battery systems annually.
The Uusikaupunki battery plant will be focusing on high-voltage automotive battery systems and modules, also for full electric vehicles. It is a key location in Valmet Automotive's battery strategy, and will bring considerable synergies with the vehicle manufacturing, says Olaf Bongwald, CEO, Valmet Automotive.
The incorporation of two business lines, vehicle manufacturing and EV Systems, under one roof in Uusikaupunki enables closer co-operation of the business line organizations and optimizing this is an essential part of the ongoing preparations. In several functions, such as support functions, maintenance and logistics, teams will effectively support both business lines.
Valmet Automotive has now secured two battery manufacturing contracts with two major automotive OEMs for the Uusikaupunki plant. These contracts ensure employment for several years to come. The recruitment of around 200 production operators will be launched during this spring, while several experts and managers have already been recruited.
Über die Valmet Automotive Management GmbH
The Valmet Automotive Group is one of the largest vehicle contract manufacturers in the world, Tier 1 systems supplier for convertible roof systems and for battery systems. In its strategic development, Valmet Automotive Group focuses on electromobility with the development and manufacturing of battery modules as well as packs for electrified vehicles. The activities in the group are organized in three business lines: Manufacturing, EV Systems and Roof & Kinematic Systems. Since its founding in 1968, Valmet Automotive has produced more than 1.7 million vehicles at the Uusikaupunki, Finland plant. In Salo, near the Uusikaupunki plant, Valmet Automotive opened its first volume production of battery systems for the automotive industry in autumn 2019. The company has locations in Finland, Germany and Poland. Valmet Automotive's largest shareholders are state-owned Finnish investment company Tesi and the Pontos Group, each with a stake of 38.46 %. 23.08 % is held by the Chinese Contemporary Amperex Technology Limited (CATL), the world leading manufacturer of battery cells for electric vehicles.
Firmenkontakt und Herausgeber der Meldung:
Valmet Automotive Management GmbH
Marcel Breuer Straße 4
80807 München
Telefon: +49 (89) 31566-263
Telefax: +49 (89) 31566-264
http://www.valmet-automotive.com
Ansprechpartner:
Frank Volk
Senior Manager Group Corporate Communications
Telefon: +49 (89) 316566-263
E-Mail: frank.volk@valmet-automotive.com
Mikael Mäki
Manager, Corporate Communications,
E-Mail: mikael.maki@valmet-automotive.com
Für die oben stehende Pressemitteilung ist allein der jeweils angegebene Herausgeber (siehe Firmenkontakt oben) verantwortlich. Dieser ist in der Regel auch Urheber des Pressetextes, sowie der angehängten Bild-, Ton-, Video-, Medien- und Informationsmaterialien. Die United News Network GmbH übernimmt keine Haftung für die Korrektheit oder Vollständigkeit der dargestellten Meldung. Auch bei Übertragungsfehlern oder anderen Störungen haftet sie nur im Fall von Vorsatz oder grober Fahrlässigkeit. Die Nutzung von hier archivierten Informationen zur Eigeninformation und redaktionellen Weiterverarbeitung ist in der Regel kostenfrei. Bitte klären Sie vor einer Weiterverwendung urheberrechtliche Fragen mit dem angegebenen Herausgeber. Eine systematische Speicherung dieser Daten sowie die Verwendung auch von Teilen dieses Datenbankwerks sind nur mit schriftlicher Genehmigung durch die United News Network GmbH gestattet.