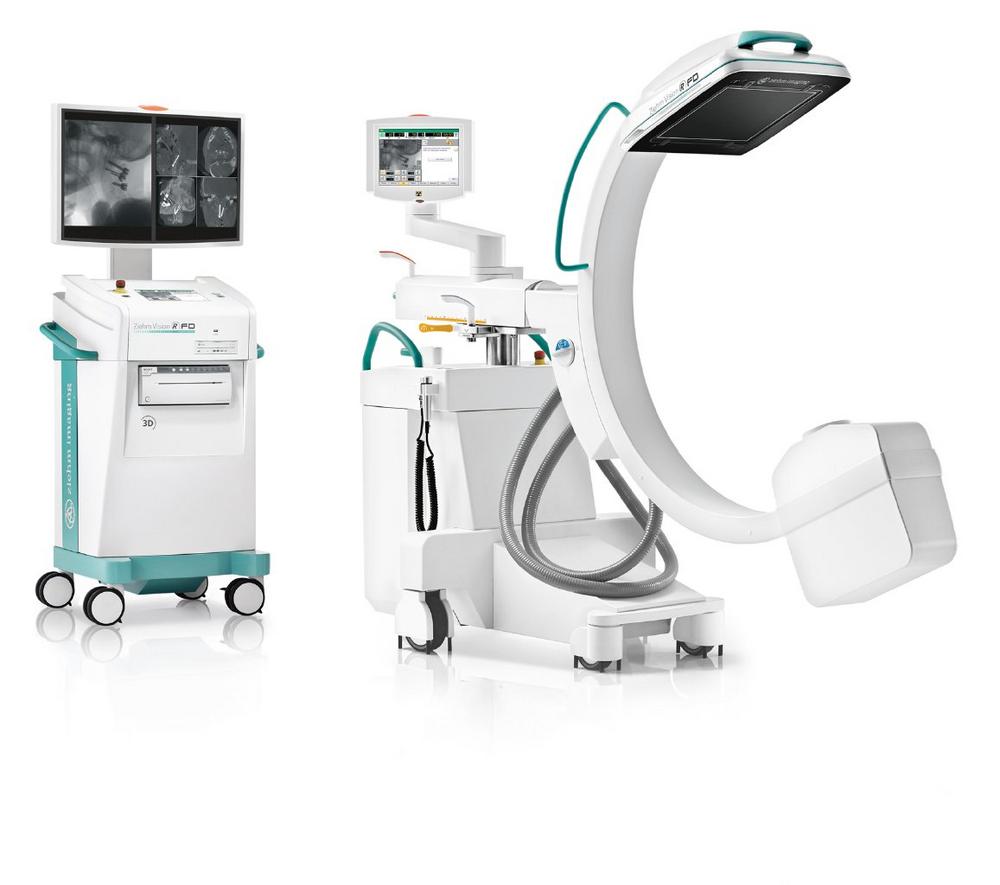 ECR 2021: Ziehm Imaging presents powerful clinical packages for cardio- vascular interventions based on Ziehm Vision RFD Hybrid Edition
At this year's virtual ECR congress, Ziehm Imaging showcases its leading portfolio of mobile C-arms and advanced imaging solutions. Highlights on display include two powerful clinical packages for cardio and vascular interventions based on the fully motorized Ziehm Vision RFD Hybrid Edition
1,
that provide clinical users with state-of-the-art imaging support and further workflow integration. The virtual booth, presented under the theme "More clarity in cardiovascular imaging", offers a guided tour, product videos and information on the proven Ziehm Imaging C-arm portfolio as well as the latest generation of Orthoscan mini C-arms.
Mobile CathLab for cost-efficient treatment of coronary diseases
Based on Ziehm Vision RFD Hybrid Edition1, the powerful fully motorized C-arm for cardiovascular interventions, Ziehm Imaging showcases the mobile CathLab. Launching the most powerful generator on the market with a 30 kW generator power performance (according to IEC 60613), the Ziehm Vision Hybrid Edition is the perfect solution particularly for demanding cardiology interventions.
Built around the 4-axis motor driven versatile C-arm, the concept consists of an interventional table, a ceiling-mounted 55" display and a hemodynamic workstation that monitors the patient's vital functions. Complete modularity allows customers to tailor the mobile CathLab to their individual needs. The compact mobile set-up offers a cost-efficient alternative to conventional CathLabs with fixed installed X-ray systems.
Complete vascular hybrid solution featuring Therenva's EndoNaut system
Leveraging the recent acquisition of Therenva, leading developer of planning and imaging software solutions for endovascular procedures, Ziehm Imaging presents a complete mobile hybrid solution. Combined with Therenva's EndoNaut fusion 3D vascular navigation system, the Ziehm Vision RFD Hybrid Edition is a powerful all-round solution that enables more accuracy for demanding hybrid OR procedures. Bringing preoperative CT data and intraoperative images together, the mobile hybrid solution enables more precise results while reducing X-ray doses and contrast media. The recently presented software feature Enhanced Vessel Visualization that automatically displays vessels in color further improves efficiency by precisely defining the vessel outlines and the side branches.
Setting new standards in mobile imaging solution
15 years after the introduction of its first mobile 3D C-arm, Ziehm Imaging continues to set new standards in mobile imaging. "With the introduction of the most powerful generator in the market with 30 kW power performance, we are underlining our innovation leadership in mobile imaging once again", says Klaus Hörndler, CEO Ziehm Imaging. "Being first to introduce a mobile CathLab concept, we are providing a powerful, mobile solution that can be tailored to the users' individual needs, ensuring smooth workflow integration and outstanding imaging in each and every conventional OR set-up."
As the driving force in mobile C-arm technology, Ziehm Imaging has recently announced the mark of a total installed base of 1,500 3D C-arms in the market, including more than 1,000 systems of its flagship model Ziehm Vision RFD 3D. Featuring the proven Ziehm NaviPort interface that connects its mobile 3D C-arms to the navigation and robotic guidance systems of leading providers, Ziehm Imaging keeps pushing the boundaries of intraoperative 3D imaging to ensure optimal interventional control and better outcomes for patients around the globe.
First mini C-arm family for pediatric imaging
With the family of TAU systems, Orthoscan is first on the market to present mini C-arms approved for pediatrics. Thanks to an intelligent dose concept with an optimized dose filter, the TAU family can not only be used in adult hand and foot surgery, but now also for intraoperative monitoring of pediatric procedures. Besides the standard version Orthoscan TAU 1512, the TAU product family includes two premium categories featuring pulsed fluoroscopy: Orthoscan TAU 1515 (15 cm x 15 cm detector) and TAU 2020 (20 cm x 20 cm detector).
Visit the Ziehm Imaging & Orthoscan booth on the ECR virtual exhibition floor: ebooth.ziehm.com
1 Ziehm Vision RFD Hybrid Edition represents a group of optional hardware and software features that creates an option package on the device named Ziehm Vision RFD.
Über die Ziehm Imaging GmbH
Founded in 1972, Ziehm Imaging has stood for the development, manufacturing and worldwide marketing of mobile X-ray-based imaging solutions for more than 45 years. Employing more than 700 people worldwide, the company is the recognized innovation leader in the mobile C-arm industry and a market leader in Germany and other European countries. The Nuremberg-based manufacturer has received several awards for its ground-breaking technologies and achievements, including the Frost & Sullivan Award (various years), the iF Design Award 2011 and 2016, the Top100 award for innovative mid-size companies 2012, the Stevie Awards 2013, 2014, 2015 and 2017, the German Stevie Award 2016 and the IAIR Global Awards 2014 as "Best Company for Innovation & Leadership". For more information please visit: www.ziehm.com.
Firmenkontakt und Herausgeber der Meldung:
Ziehm Imaging GmbH
Lina-Ammon-Straße 10
90471 Nürnberg
Telefon: +4991166067 0
Telefax: +4991166067390
http://www.ziehm.com
Ansprechpartner:
Florian Fagner
BSKOM
Telefon: +49 89 13 95 78 27 16
E-Mail: fagner@bskom.de
Für die oben stehende Pressemitteilung ist allein der jeweils angegebene Herausgeber (siehe Firmenkontakt oben) verantwortlich. Dieser ist in der Regel auch Urheber des Pressetextes, sowie der angehängten Bild-, Ton-, Video-, Medien- und Informationsmaterialien. Die United News Network GmbH übernimmt keine Haftung für die Korrektheit oder Vollständigkeit der dargestellten Meldung. Auch bei Übertragungsfehlern oder anderen Störungen haftet sie nur im Fall von Vorsatz oder grober Fahrlässigkeit. Die Nutzung von hier archivierten Informationen zur Eigeninformation und redaktionellen Weiterverarbeitung ist in der Regel kostenfrei. Bitte klären Sie vor einer Weiterverwendung urheberrechtliche Fragen mit dem angegebenen Herausgeber. Eine systematische Speicherung dieser Daten sowie die Verwendung auch von Teilen dieses Datenbankwerks sind nur mit schriftlicher Genehmigung durch die United News Network GmbH gestattet.