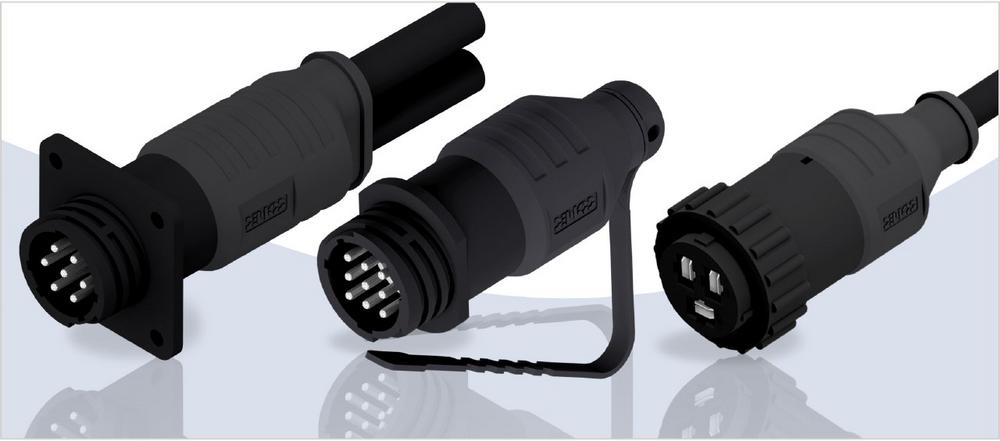 CPC-connector series overmoulded
CONEC has expanded its range of agricultural connectors to include overmoulded versions of the CPC connector series.
In addition to agricultural and automotive engineering, CPC connectors are frequently used in control cabinets, robotics, injection moulding machines and machine tools. This design is a robust connector which, in contrast to the previous agricultural connectors in the CONEC product range, has a threaded connection with positive detent and is smaller in size than, for example, an Isobus connector.
Both, single and double outlet versions for the cable, as well as termination caps, are available.
The versions with double outlet are used for the distribution of signals and power as Y-distributors with different connectors and variable cable lengths. With this option, systems can be built more compactly and installation space can be saved.
Upon request, a great variety of combinations are possible in addition to the standard items with open cable ends, as shown in the following example.
In addition to the versions with double cable outlet, CONEC has also implemented versions as termination caps for the CPC series.
With the termination cap design, unused connectors can not only be protected from dirt. In addition, the IP67 protection class is met in mated condition.
The termination caps are supplied as standard with a securing loop with which they can be undetachable fastened to the cable of the mating connector, for example. A hole at the end of the caps offers additional fastening options for the customer, e.g. to fasten the termination cap to a housing using a steel cable.
As standard, the caps are designed without contacts and additional wiring.
Optionally, it is possible to integrate resistors and short-circuit bridges into the termination caps. For example, terminating connectors for CAN bus systems and also connectors for coding can be realised. This results in a wide range of possible applications.
The versions of the overmoulded CPC connector series comply with protection class IP67 in mated condition with single as well as double outlet and as termination cap.
Advantages
Compact design
Distribution from one connector to 2 lines possible
Protection class IP67 in mated condition and when used with termination cap
Option of wiring in termination caps enables use as end plugs, etc.
Due to overmoulding, continuous protection from the housing into the cable is ensured
Use in harsh environments
Tamper-proof
Tested confection
Fields of application
Agricultural and construction machinery
Emergency vehicles
Road construction
Transport industry
Control technology
Control engineering
Energy supplies
Robotics
Injection moulding machines
Machine tools
Über die CONEC Elektronische Bauelemente GmbH
For more than 40 years, CONEC Elektronische Bauelemente GmbH has been developing, producing and marketing high-quality connectors, patch cable and single ended cable as well as enclosure technology.
CONEC products are used in automation, telecommunications and energy technology, machine manufacturing, agriculture and medical technology, transportation and the aviation industry.
The headquarters in Lippstadt has a large research and development department, its own tool-making department, a CNC-turning department and a synthetics injection moulding plant.
As part of the Amphenol Group, CONEC participates in the growth and development opportunities of a globally active group and at the same time acts flexibly and quickly as a medium-sized company in order to optimally adapt to changing customer needs.
In addition to a variety of connectors for all current standards, our particular strength is the integrated moulding of components and assemblies and the development of customized solutions.
CONEC is a global player with its own subsidiaries and/or production sites in Canada, the USA, China, the Czech Republic, Poland and France.
The product portfolio includes connectors of the following categories:
• D-SUB/IP67 D-SUB Connectors
• IP67 RJ45 / USB / Mini USB / Fiber Optic LC Duplex
• CONEC Hybrid Connectors
• Connectors for agricultural and construction machines
• Circular Connectors
• PCB Connectors
• Customer specific solutions
The company's quality management ensures high quality by applying the international standards DIN EN ISO 9001. Depending on the product family, CONEC industrial connectors are tested and approved in accordance with UL, CSA or VDE.
Firmenkontakt und Herausgeber der Meldung:
CONEC Elektronische Bauelemente GmbH
Ostenfeldmark 16
59557 Lippstadt
Telefon: +49 (2941) 765-0
Telefax: +49 (2941) 765-65
http://www.conec.com
Ansprechpartner:
Katja Schade
Marketing Communications Manager
Telefon: +49 (2941) 765-350
Fax: +49 (2941) 765-65
E-Mail: Katja.schade@conec.de
Für die oben stehende Pressemitteilung ist allein der jeweils angegebene Herausgeber (siehe Firmenkontakt oben) verantwortlich. Dieser ist in der Regel auch Urheber des Pressetextes, sowie der angehängten Bild-, Ton-, Video-, Medien- und Informationsmaterialien. Die United News Network GmbH übernimmt keine Haftung für die Korrektheit oder Vollständigkeit der dargestellten Meldung. Auch bei Übertragungsfehlern oder anderen Störungen haftet sie nur im Fall von Vorsatz oder grober Fahrlässigkeit. Die Nutzung von hier archivierten Informationen zur Eigeninformation und redaktionellen Weiterverarbeitung ist in der Regel kostenfrei. Bitte klären Sie vor einer Weiterverwendung urheberrechtliche Fragen mit dem angegebenen Herausgeber. Eine systematische Speicherung dieser Daten sowie die Verwendung auch von Teilen dieses Datenbankwerks sind nur mit schriftlicher Genehmigung durch die United News Network GmbH gestattet.