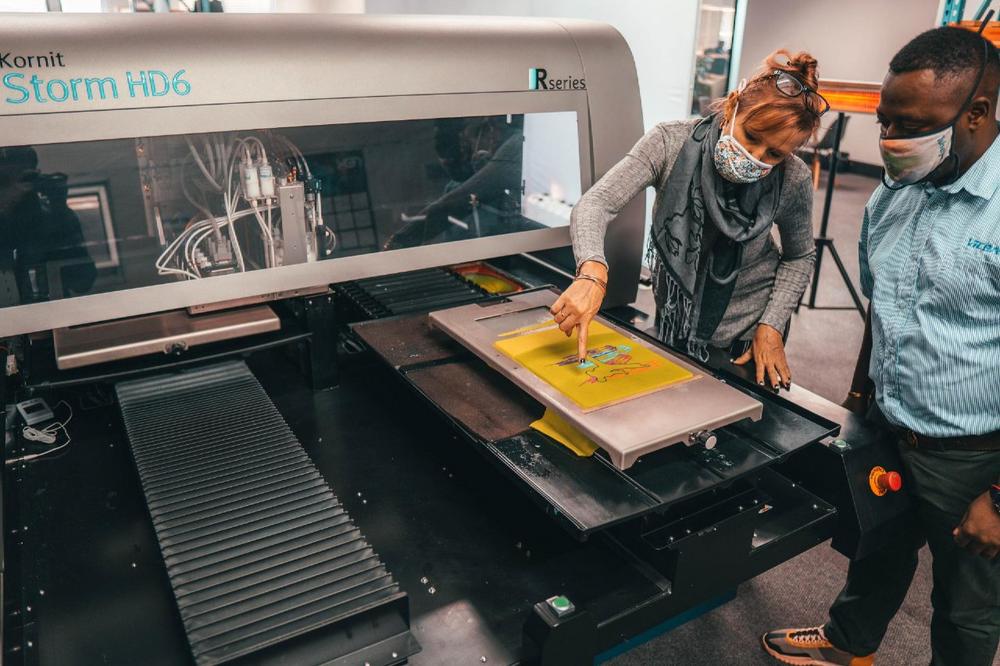 Vic Bay Apparel Grows Its On-Demand Fulfilment, Dropship Operation with Kornit Storm HD6
Kornit Digital (Nasdaq: KRNT), a worldwide market leader in digital textile printing technology, today announces Johannesburg, South Africa-based apparel decorator 
Vic Bay Apparel
 has implemented two 
Kornit Storm HD6
 systems for sustainable, single-step production on demand. This installation answers increased demand for small orders and high-colour graphic designs, resulting from a dramatic growth in their e-commerce operation.
Vic Bay Apparel has been a manufacturer, supplier, and wholesaler of basic t-shirts and golf shirts for 25 years, supplying blank apparel to decorators and resellers of promotional clothing. They predominantly service resellers in the tourism, workwear, printing, embroidery, and advertising markets.
When COVID-19 disrupted the market suddenly, Vic Bay Apparel saw business with a strong web-based operation weathering the storm more effectively than others, and responded by launching a new site dedicated to B2B order management, offering enterprise customers simple, versatile dropship services.
"We are now one of the first truly online print-on-demand dropshippers servicing the print and embroidery community here in South Africa," said Mike Shiller, Managing Director at Vic Bay Apparel. "The Kornit Storm HD6 offers our clients a photorealistic print on cotton garments, and it's a true testament to Kornit's capabilities that some of the largest and most diverse producers worldwide have turned to them for their online businesses, and only use Kornit to imprint apparel."
"In any corner of the globe, Kornit's clean, efficient, on-demand production capabilities empower businesses to answer unseen disruptions and new market challenges with very little effort," said Chris Govier, KDEU Managing Director. "Fulfillers like Vic Bay Apparel can change their business model and create new profit streams on the fly, while supplying their customers with dependable quality and virtually unlimited graphic capabilities. Producing with Kornit means creating opportunities, and remaining profitable always."
Über die Kornit Digital Europe GmbH
Kornit Digital (NASDAQ:KRNT) develops, manufactures and markets industrial digital printing technologies for the garment, apparel and textile industries. Kornit delivers complete solutions, including digital printing systems, inks, consumables, software and after-sales support. Leading the digital direct-to-garment printing market with its exclusive eco-friendly NeoPigment printing process, Kornit caters directly to the changing needs of the textile printing value chain. Kornit's technology enables innovative business models based on web-to-print, on-demand and mass customization concepts. With its immense experience in the direct-to-garment market, Kornit also offers a revolutionary approach to the roll-to-roll textile printing industry: Digitally printing with a single ink set onto multiple types of fabric with no additional finishing processes. Founded in 2003, Kornit Digital is a global company, headquartered in Israel with offices in the USA, Europe and Asia Pacific, and serves customers in more than 100 countries worldwide. For more information, visit Kornit Digital at www.kornit.com.
Firmenkontakt und Herausgeber der Meldung:
Kornit Digital Europe GmbH
Halskestrasse 29
40880 Ratingen
Telefon: +49 (211) 20055-0
Telefax: +49 (2102) 166-3538
http://www.kornit-digital.com
Ansprechpartner:
Carmen Deville Makover
Head of Global PR
E-Mail: carmen.makover@kornit.com
Ingrid Van Loocke
PR Director
E-Mail: ingrid@pr4u.be
Für die oben stehende Pressemitteilung ist allein der jeweils angegebene Herausgeber (siehe Firmenkontakt oben) verantwortlich. Dieser ist in der Regel auch Urheber des Pressetextes, sowie der angehängten Bild-, Ton-, Video-, Medien- und Informationsmaterialien. Die United News Network GmbH übernimmt keine Haftung für die Korrektheit oder Vollständigkeit der dargestellten Meldung. Auch bei Übertragungsfehlern oder anderen Störungen haftet sie nur im Fall von Vorsatz oder grober Fahrlässigkeit. Die Nutzung von hier archivierten Informationen zur Eigeninformation und redaktionellen Weiterverarbeitung ist in der Regel kostenfrei. Bitte klären Sie vor einer Weiterverwendung urheberrechtliche Fragen mit dem angegebenen Herausgeber. Eine systematische Speicherung dieser Daten sowie die Verwendung auch von Teilen dieses Datenbankwerks sind nur mit schriftlicher Genehmigung durch die United News Network GmbH gestattet.