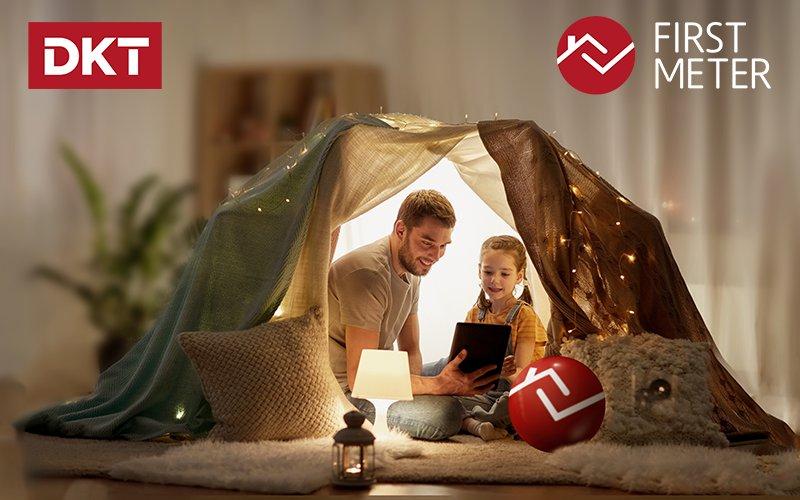 DKT intensifies business in the UK and launches FIRST METER initiative
DKT A/S, one of Europe's leading providers of broadband components for FTTH and HFC applications, has appointed Robin Abel as Managing Director of the newly established DKT Fibrecom Ltd. DKT has existing strong partnerships with AltNet operators in Great Britain, supplying gateways for major projects to provide rural areas with FTTH and this appointment will enable DKT to intensify its activities in the UK.
Robin Abel holds a Ph. D. in Electronic Engineering and is a known specialist in the telecommunications industry with many years of experience, including sales positions at VMware and ADVA. Most recently, he worked as Regional Sales Manager for Calix, where he was responsible for the UK and Ireland business. At DKT, Robin will be in charge of building the company's brand, presence and sales in the UK and Ireland. Robin Abel states: "Being in charge of DKT's subsidiary is a great opportunity that I am glad to face. I am convinced, that with DKT's out-of-the-box mindset, combined with sophisticated and innovative FTTH products, we will not only fulfil the needs of the British broadband market, but set new standards in increasing the intelligence of FTTH networks and their installation."
DKT starts the intensification of the UK activities with the introduction of its First Meter® initiative at Connected Britain 2021 (21 – 22 September, London). First Meter® challenges why the customer connection is commonly called the "last mile" in the industry when it is the start of the subscriber experience with the service provider and should be seen as an opportunity to add value and increase customer satisfaction. One example of how First Meter® wants to achieve this is by allowing for Centralized Testing, which simplifies troubleshooting, and thereby reduces downtime, improves the broadband experience for the customer and lowers OPEX for the network operator. Furthermore, First Meter® features several solutions to simplify installation and connection of customers, thus allowing non-specialist installation and reducing risk due to the increased shortage of skilled FTTH installers. One such solution concept is Extallation, which enables even semiskilled workers to carry out a customer connection mainly from outside the building. Just like all of DKT's other activities, First Meter® attaches great importance to interoperability and resilience.
Christian Emborg, CEO of DKT, has great confidence in the upcoming British activities: "I am convinced, that a local subsidiary will open enormous advantages on the British market. In addition to building stronger customer connections, this also includes improved support for network operators and rapid adaptation to local technical challenges and requirements. With Robin in charge, we have found a great addition to our team. I highly value his innovative mindset, technical expertise and over-the-top market knowledge."
Über BTV Multimedia is now Netceed
DKT has been an innovator in the broadband industry since its founding over 40 years ago. Within the three core business areas of Coax Networks, FTTH/FTTB Networks and Home Networks, the focus is on the development of products for network termination, such as an FTTH 2-box solution consisting of FTU and Gateway. DKT's business philosophy is based on interoperability, reliability and a pronounced problem-solving mindset. With this, DKT supports network operators in increasing the living standard of their end customers by improved broadband.
Originally founded as a Danish company, DKT now also has subsidiaries in Sweden and the United Kingdom. Membership in the BTV Multimedia Group, a rapidly growing group of medium-sized companies under the umbrella of Deutsche Beteiligungs AG (DBAG), which bundles the activities of well-known international manufacturers, distributors and service providers in the broadband industry, enables DKT to offer a complete portfolio of products and services for FTTX and HFC networks.
Firmenkontakt und Herausgeber der Meldung:
BTV Multimedia is now Netceed
Merkurstraße 3 c
30419 Hannover
Telefon: +49 511 7901594
https://www.btv-multimedia.de
Ansprechpartner:
Jan Stille
Head of Marketing
Telefon: 051175708712
E-Mail: stille@btv-multimedia.de
Für die oben stehende Pressemitteilung ist allein der jeweils angegebene Herausgeber (siehe Firmenkontakt oben) verantwortlich. Dieser ist in der Regel auch Urheber des Pressetextes, sowie der angehängten Bild-, Ton-, Video-, Medien- und Informationsmaterialien. Die United News Network GmbH übernimmt keine Haftung für die Korrektheit oder Vollständigkeit der dargestellten Meldung. Auch bei Übertragungsfehlern oder anderen Störungen haftet sie nur im Fall von Vorsatz oder grober Fahrlässigkeit. Die Nutzung von hier archivierten Informationen zur Eigeninformation und redaktionellen Weiterverarbeitung ist in der Regel kostenfrei. Bitte klären Sie vor einer Weiterverwendung urheberrechtliche Fragen mit dem angegebenen Herausgeber. Eine systematische Speicherung dieser Daten sowie die Verwendung auch von Teilen dieses Datenbankwerks sind nur mit schriftlicher Genehmigung durch die United News Network GmbH gestattet.