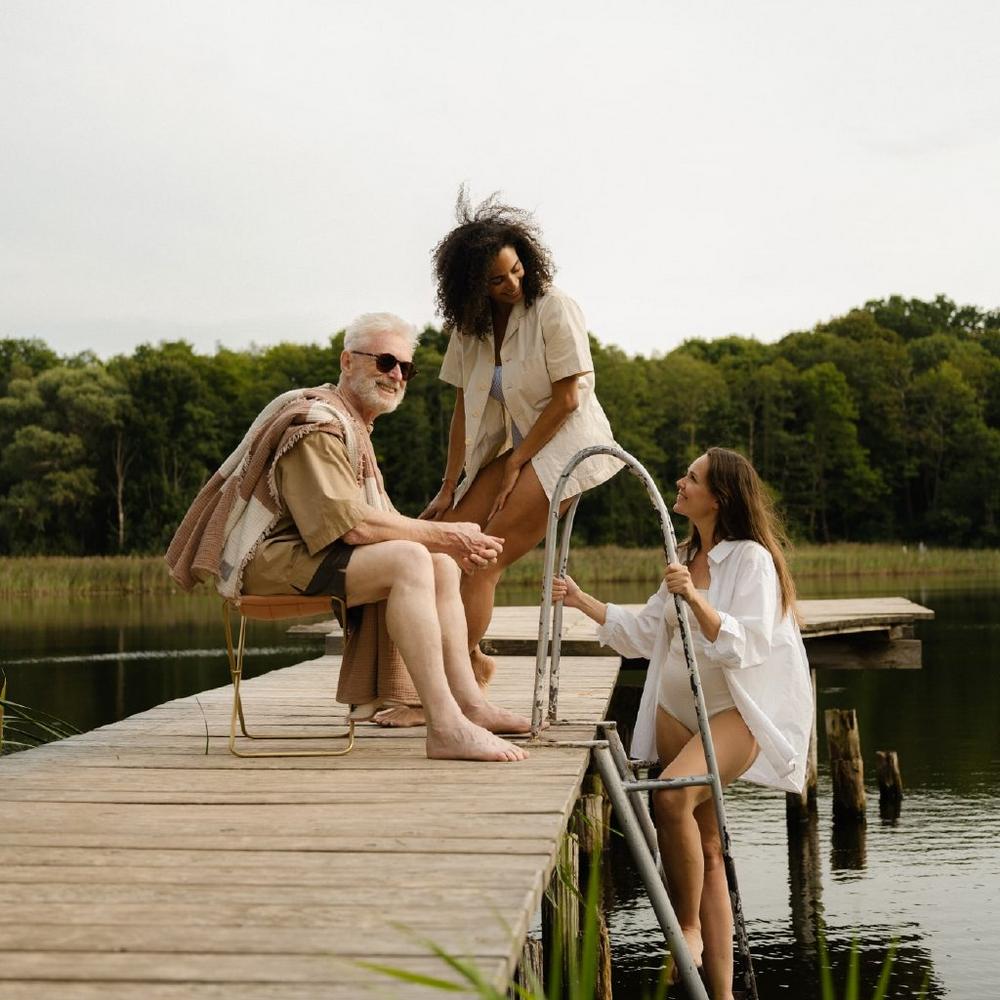 Quality Time: Where to Travel with Family and Friends
From finding appropriately sized guestrooms to destinations that spark everyone's interests, planning travel with family or a group of friends can be a dauting task; but it doesn't have to be. Offering spacious rooms, suites, and villas, a variety of culturally oriented programs, and child-friendly spaces, several of our member hotels are created specifically with groups in mind. These six properties—located around the world, from London's East End to the Maldives—are dreamily equipped for friends planning a luxe group getaway or families in search of the next spot to create lasting memories.
Focused on creating intimate experiences rooted in Greek heritage is the new property Pnoēs Tinos, nestled in a lush valley on the titular Cycladic island. Here, three contemporary villas, designed by one of Greece's most famed architects, Aristides Dallas, provide spacious indoor and outdoor areas, each with two double bedrooms and ensuite bathrooms, a living, dining, and cooking area, an open-air pergola and lounge space, and a private pool with shallow and deep ends as well as a built-in Jacuzzi. Beyond the constructed spaces, every villa also has a private organic garden growing Mediterranean fruits, vegetables, and herbs for guests of all ages to harvest and enjoy. The entire property can also be rented out exclusively for the ultimate private friends' getaway or family reunion.
On the larger Greek island of Crete, Cretan Malia Park is an expansive retreat where everyone can find a place to feel at ease. Dedicated family rooms include the Deluxe Family Bungalow, with a king-size bed, bunkbed, and built-in sofa bed, while the Little Explorers Club and The Place provide spaces exclusively for kids and teenagers. At the former, children aged 3–12 can participate in cooking and baking workshops, learn about environmental awareness, and watch live dance and theater performances, as well as run about freely and pick their own snacks in an outdoor play area and organic garden. The Place, meanwhile, is an open-air area equipped with a large water tub, tall trees with hammocks, and games like table tennis, billiards, and darts, reserved exclusively for teens. At night, The Place also hosts film screenings. At the same time, parents can revive their minds and bodies at The Cute Spa, in yoga and meditation sessions, or lounging poolside under the Aegean sun.
In Niseko, Hokkaido, one of Japan's most popular ski resorts, Kimamaya by Odin is an intimate mountain lodge with only nine rooms. But within these rooms, three of the four layouts can accommodate two adults and at least one child. The hotel also has a Kids Room with arts and crafts materials, giant cushions ready for pillow fights, and a big-screen TV for movie nights. During the day, children can also join organized outings to hit the (bunny) slopes, while parents can enjoy the heights the mountains have to offer—or stay at the property and relax in the oak and stone onsen and indulge in traditional massage treatments.
At Patina Maldives, Fari Islands in the North Malé Atoll, groups of friends and families of all sizes are welcome. The sprawling resort, designed by Marcio Kogan of Studio MK27, has standard rooms, spacious suites, and luxury above-water villas; 12 eateries ranging from fine-dining restaurants to food trucks; and impressive programming for kids and adults alike. Footprints, an experiential haven for children that centers on play as a medium of self-discovery, is open to kids aged 4–11, with babysitting services also available. The space hosts 3D modeling and laser-cutting workshops, an international STEM education program by Formula 1 for young guests to design and assemble and race their own F1 models, culinary workshops, and Blue School activities to build appreciation for and understanding of the oceans. Elsewhere, adults can also participate in ceramic and coral conservation workshops, watsu guided aqua therapy sessions, Maldivian cooking classes, wine tastings, and art tours of the property's impressive collection. At the end of the day, everyone can come together for family movie nights hosted in the resort's hub, Fari Marina Village.
Located beachside in Laigueglia, a village in the Italian Riviera, Hotel Windsor offers a picturesque family- and group-friendly summer escape. Many of the 25 rooms can be interconnected, while the private sandy beach, called Bagni Windsor, is the perfect place to spend the day lounging on Kettal sunbeds under bespoke umbrellas and swimming in the calm Mediterranean waters—with retro-style inflatables and stand-up paddleboards completing the experience. Back on land, guests can enjoy exploring the nearby fishing village, biking through the surrounding hills, and treating themselves to a casual lunch or gourmet dinner at the hotel's restaurant.
In London's bustling East End, Town Hall Hotel is a historically renovated structure with original Edwardian features and modern additions by Rare Architecture that draws in business travelers and small families alike. Offering exceptionally spacious rooms and suites within the former Bethnal Green Town Hall, one of the most impressive layouts is the Two Bedroom Apartment, which comfortably accommodates families and even features a kitchen. The property also warmly welcomes dogs, and an indoor pool provides a place for guests of all ages to play and relax after a day in the city.
Marriott International, Inc. (NASDAQ: MAR) is based in Bethesda, Maryland, USA, and encompasses a portfolio of nearly 8,000 properties under 30 leading brands spanning 139 countries and territories. Marriott operates and franchises hotels and licenses vacation ownership resorts all around the world. The company offers Marriott Bonvoy®, its highly-awarded travel program. For more information, please visit our website at www.marriott.com, and for the latest company news, visit www.marriottnewscenter.com. In addition, connect with us on Facebook and @MarriottIntl on Twitter and Instagram.
Über die design hotels AG
Design Hotels™ represents and markets a curated selection of over 300 independent hotels in more than 60 countries across the globe. More than a collection of hotels, the company is a collection of stories. Each property reflects the ideas of a visionary hotelier, an "Original", someone with a passion for genuine hospitality, cultural authenticity, thought-provoking design and architecture. Each "Original" stands for the individual, aesthetic and service-driven experience that his or her hotel provides.
In 2017, Design Hotels™ launched Further, a traveling laboratory for experiential hospitality that transforms hotels across the globe into temporal hubs of thematic exploration. The mission behind Further aligns with the values of the future-facing Promad, a new generation of traveler embracing progressive travel and global nomadism. First identified by Design Hotels™ in collaboration with leading futures consultancy The Future Laboratory, the purpose-driven, self-actualizing Promadic movement is set to shape the future of hospitality.
Founded by Claus Sendlinger in 1993, Design Hotels™ offers its members insightful travel industry knowledge, from market trend consultancy to international sales representation. The company has its headquarters in Berlin and branches in London, Los Angeles, New York and Singapore. In 2019, Design Hotels™ joined forces with Marriott Bonvoy, enabling its member hotels to have both a greater and more selective reach while offering its Community the benefit of the industry's leading loyalty program.
Firmenkontakt und Herausgeber der Meldung:
design hotels AG
Stralauer Allee 2c
10245 Berlin
Telefon: +49 (30) 884940-000
Telefax: +49 (30) 257698-96
http://www.designhotels.com
Ansprechpartner:
Design Hotels AG
Telefon: +49 (30) 42094029
E-Mail: press@designhotels.com
Für die oben stehende Pressemitteilung ist allein der jeweils angegebene Herausgeber (siehe Firmenkontakt oben) verantwortlich. Dieser ist in der Regel auch Urheber des Pressetextes, sowie der angehängten Bild-, Ton-, Video-, Medien- und Informationsmaterialien. Die United News Network GmbH übernimmt keine Haftung für die Korrektheit oder Vollständigkeit der dargestellten Meldung. Auch bei Übertragungsfehlern oder anderen Störungen haftet sie nur im Fall von Vorsatz oder grober Fahrlässigkeit. Die Nutzung von hier archivierten Informationen zur Eigeninformation und redaktionellen Weiterverarbeitung ist in der Regel kostenfrei. Bitte klären Sie vor einer Weiterverwendung urheberrechtliche Fragen mit dem angegebenen Herausgeber. Eine systematische Speicherung dieser Daten sowie die Verwendung auch von Teilen dieses Datenbankwerks sind nur mit schriftlicher Genehmigung durch die United News Network GmbH gestattet.