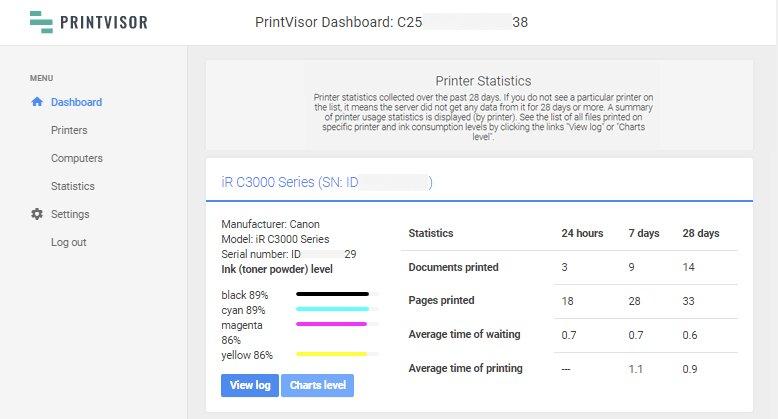 PrintVisor – a New Program for Monitoring Many Printing Devices from One Place
The software development company
fCoder
has announced it is making PrintVisor available for everyone as an open beta. PrintVisor is a new solution for real-time monitoring of printers' work on Windows.
PrintVisor is a software for printer monitoring – it automatically detects and displays all local, network, shared and virtual printers located in an office (and other locations) in one interface. For each printing device, it can provide information on print status, availability, print queue, and time of last activity. More details on each printer are also available; an administrator can see remaining ink and toner levels and see document printing statistics, for each device.
Additionally, there is a web dashboard with even more stats related to printing with data on printers, users, computers, documents, and pages. Therefore, PrintVisor is a simple solution to oversee all printers within an organization.
With PrintVisor, one can track printers' ink and toner, monitor print queues, check printer statuses and keep an eye on printing habits in the entire company. A system administrator (or an office manager, for example) can keep the application running in the background so that it doesn't distract employees. 
The developers say the program is currently in beta testing. Still, they encourage everyone who has many printers and workstations to try it out at no charge. 
Learn more about PrintVisor Beta at 
https://www.printvisor.com/news/open-beta-launched
Learn more about fCoder at 
https://www.fcoder.com
Über fCoder SIA
Since 1998, fCoder has been offering a range of professional software for Windows users. The company specialists develop desktop, server-side, and command-line programs for batch printing and file conversion. The applications, each focused on specific tasks, are being maintained and updated for a long while.
Software created by fCoder optimizes document processing as well as saves time and other resources of various companies, governmental entities, non-profit organizations, and individual users. The key products developed by fCoder are Print Conductor, FolderMill, Image Converter Plus, 2JPEG, 2TIFF, 2PDF, DocuFreezer, and Universal Document Converter.
Firmenkontakt und Herausgeber der Meldung:
fCoder SIA
Dzirnavu
LV1010 Riga
Telefon: +371 257-23-233
http://www.fcoder.com
Ansprechpartner:
Laisan Shafikova
E-Mail: biuro@fcoder.pl
Für die oben stehende Pressemitteilung ist allein der jeweils angegebene Herausgeber (siehe Firmenkontakt oben) verantwortlich. Dieser ist in der Regel auch Urheber des Pressetextes, sowie der angehängten Bild-, Ton-, Video-, Medien- und Informationsmaterialien. Die United News Network GmbH übernimmt keine Haftung für die Korrektheit oder Vollständigkeit der dargestellten Meldung. Auch bei Übertragungsfehlern oder anderen Störungen haftet sie nur im Fall von Vorsatz oder grober Fahrlässigkeit. Die Nutzung von hier archivierten Informationen zur Eigeninformation und redaktionellen Weiterverarbeitung ist in der Regel kostenfrei. Bitte klären Sie vor einer Weiterverwendung urheberrechtliche Fragen mit dem angegebenen Herausgeber. Eine systematische Speicherung dieser Daten sowie die Verwendung auch von Teilen dieses Datenbankwerks sind nur mit schriftlicher Genehmigung durch die United News Network GmbH gestattet.