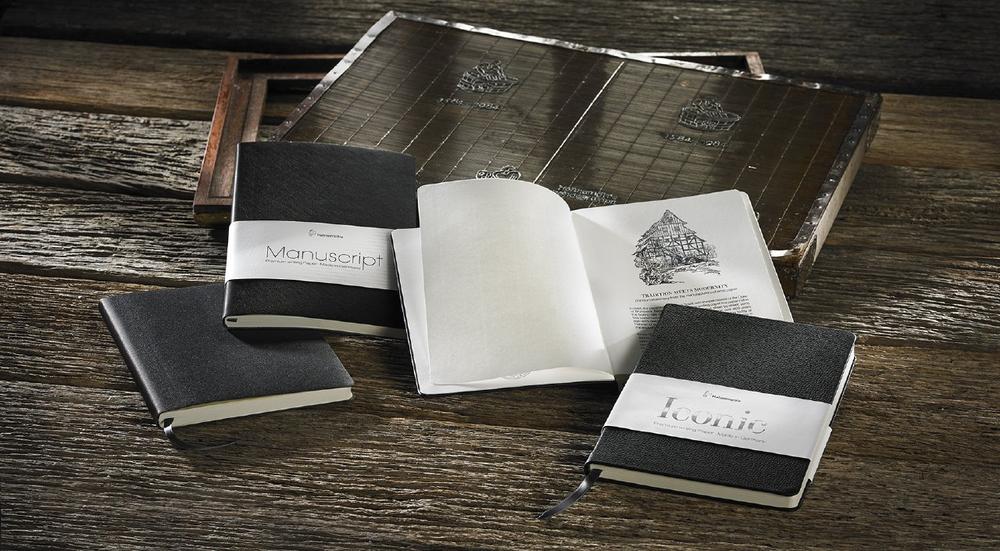 With 436 years of papermaking tradition: fine stationery from the oldest German artist paper manufacturer
In 1584, the papermaker 
Merten Spieß
, with the permission of the Duke of Brunswick, began to create premium writing paper in a paper mill in the Solling hills. Back then, he worked by hand, sheet by sheet, using fine watermarks and deckled edges. For over four centuries Hahnemühle has consistently developed along the lines of its founder and is now establishing the new 
FineNotes
 business unit on this foundation.
The first classic notebook "1584 by Hahnemühle" is now being followed by further premium stationery products in the new product range. Hahnemühle's more than 400 years of unbroken German manufacturing tradition meets the global zeitgeist – with luxury writing instruments, high-quality notebooks and the finest writing papers.
The three product groups in detail:
FineNotes Writing Instruments – Luxury writing instruments for the finest papers
Hahnemühle is starting with three series that bear the proud name "Originals". Each series includes fountain pen, rollerball and ballpoint pen. A noble detail of all fountain pens: an 18 carat gold nib with line width M. Inspired by the pattern of the cylinder mould in the paper machine from the 19th century, the exclusive writing instruments of the Hahnemühle Originals First Edition and the Hahnemühle Originals Slim series present themselves with a fine, guilloché surface. In the Hahnemühle Originals First Edition there are only 100 of each available worldwide! The Slim Edition is available in two elegant colours – beige and cool grey.
The writing instruments in the Hahnemühle Originals Bold series make a real statement in terms of form and material and are a reminiscence of Hahnemühle's founding father, papermaker Merten Spieß.
FineNotes notebooks – notebooks for people who love writing
The finest papers with the genuine rooster watermark have been used for centuries and continue to do so today – even for the art of writing. Bound in Hahnemühle FineNotes Notebooks, they appeal to all the senses. The elegant creamy natural white Hahnemühle paper with a silky-smooth surface and genuine watermark is perfect for very personal entries. Available are a luxury leather cover and a recycled leather cover with Saffiano embossing. Both notebooks – Iconic Notebook and Manuscript Notebook – provide a haptically and visually impressive writing experience.
In addition to the finest writing paper, Hahnemühle has been producing genuine artist papers since the 18th century. Bound in fine sketchbooks they are elegant companions in purist designs combined with fine details. Hahnemühle FineNotes Notebooks feature delicate cappuccino-coloured paper or luxurious smooth grey paper, as well as elegantly structured cream-coloured paper for example.
FineNotes writing papers – finest artist papers in premium products
Hahnemühle is continuing what began centuries ago with handmade paper for royal families and nobility. Valuable writing papers are once again en vogue in the digital area and Hahnemühle is using its expertise to develop new FineNotes Writing Papers with and without watermarks.
Then as today, all Hahnemühle papers and writing instruments have in common that they are manufactured to perfection with craftmenship and from the finest raw materials. Distinctive watermarks, fine engravings or fine embossing are the characteristic features of all products in the new FineNotes product range.
Über die Hahnemühle FineArt GmbH
Hahnemühle is a manufactory and has had its headquarters in Dassel, southern Lower Saxony, since 1584. Today there are branches in Great Britain, France, USA, Singapore and China. More than 200 people work for Hahnemühle worldwide – from paper makers to quality managers. A network of business partners ensures that the finest paper and writing instruments can be found as Hahnemühle FineNotes products in 120 countries around the world.
In addition to traditional artist papers, digital FineArt papers for the world's best photographers, museums and galleries are now part of the product portfolio. In addition, the development and production of highly innovative, technical speciality papers for life science applications, research and industry is a Hahnemühle trademark. As the "Brand of the Century" the name Hahnemühle stands for inspiring products with perfection and tradition for people with an affinity for paper, with a penchant for the extraordinary.
Firmenkontakt und Herausgeber der Meldung:
Hahnemühle FineArt GmbH
Hahnestraße 5
37586 Dassel
Telefon: +49 (5561) 791-235
Telefax: +49 (5561) 791-351
http://www.hahnemuehle.de
Ansprechpartner:
Bettina Scheerbarth
Corporate Communications & FineNotes Product Communication
Telefon: 05561-791 682
E-Mail: bettina.scheerbarth@hahnemuehle.com
Für die oben stehende Pressemitteilung ist allein der jeweils angegebene Herausgeber (siehe Firmenkontakt oben) verantwortlich. Dieser ist in der Regel auch Urheber des Pressetextes, sowie der angehängten Bild-, Ton-, Video-, Medien- und Informationsmaterialien. Die United News Network GmbH übernimmt keine Haftung für die Korrektheit oder Vollständigkeit der dargestellten Meldung. Auch bei Übertragungsfehlern oder anderen Störungen haftet sie nur im Fall von Vorsatz oder grober Fahrlässigkeit. Die Nutzung von hier archivierten Informationen zur Eigeninformation und redaktionellen Weiterverarbeitung ist in der Regel kostenfrei. Bitte klären Sie vor einer Weiterverwendung urheberrechtliche Fragen mit dem angegebenen Herausgeber. Eine systematische Speicherung dieser Daten sowie die Verwendung auch von Teilen dieses Datenbankwerks sind nur mit schriftlicher Genehmigung durch die United News Network GmbH gestattet.