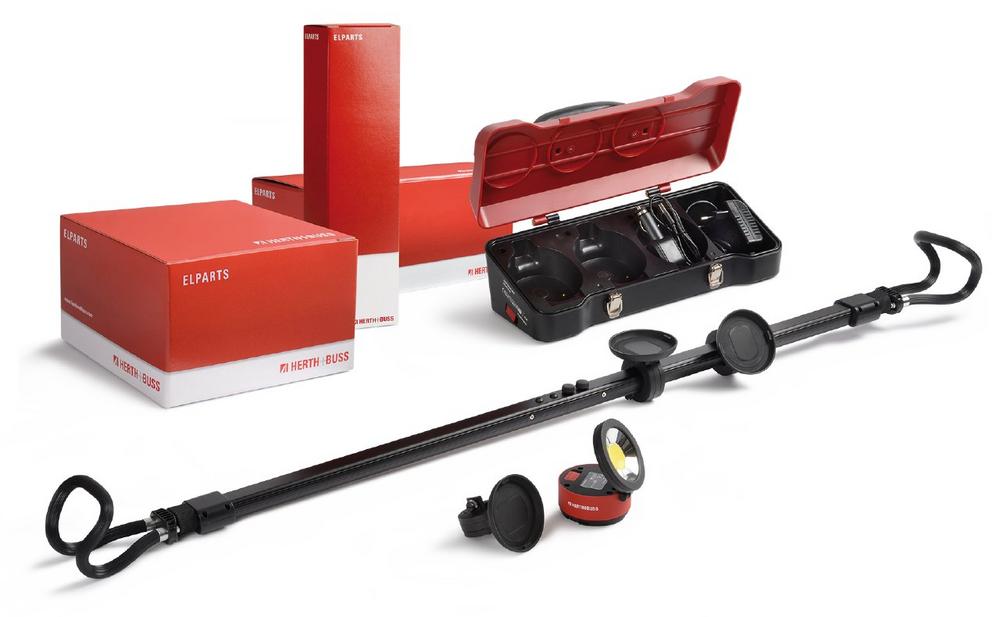 A lamp with multiple possibilities
Every workplace is different and has specific requirements for lighting. With our new LED Shine Spot hand lamp, every work area can be optimally lit with little effort. The new LED Shine Spot hand lamp can be used as a traditional hand lamp, but can also light the engine compartment or other work areas. We therefore offer workshops a comprehensive, individual and diverse solution for lighting at the workplace.
The lamp also impresses with its compact design and the wide range of fastening options. It is magnetic, but it can also be attached to the separately available holder with a hook or bayonet lock.
The lamp is equipped with a two-colour charge status indicator. Another highlight is the 120-degree beam angle and the lighting unit that can be rotated 180 degrees, enabling optimal lighting of the workstation. The lamp's scope of supply already includes the USB charger, meaning it is ready to use right away.
Optionally available accessories
The range of applications of the new LED Shine Spot hand lamp can be individually expanded thanks to the optional accessories, opening up a wide range of usage options.
Holder, hand lamp
To make optimal use of the lamps, for targeted illumination of the engine compartment, for example, we offer a mounting option for the bonnet as an accessory. This is a telescopic rod and two holders for mounting the lamps. The holders each have a groove so that the hand lamp can be mounted on the holder with a slight rotation. The holders themselves can be rotated by 360 degrees around their own axis, i.e. around the rod, and can also be moved horizontally on the guide rail of the telescopic rod. The lamps can be easily and simply removed from the holder and used flexibly. We also offer the holders individually. This makes it possible to mount further holders and therefore other lamps on the telescopic rod if necessary. This enables the lighting options to be individually expanded.
Charger, hand lamp
The charging box available from us is also ideal for all customers who decide to buy several LED Shine Spots. The advantage of this box is that three lamps can be charged at the same time. The two charging points are located on the base of the housing. What's more, the box can be used to store the Spots safely. The housing of the charging box is designed so that the lamps can only be placed in the box with the correct alignment.
Hand lamp
LED Shine Spot
Article number: 99910163
Holder, hand lamp
LED Shine Spot
Article number: 99910163001, -002
Charger, hand lamp
LED Shine Spot
Article number: 99910163003
Über Herth+Buss Fahrzeugteile GmbH & Co. KG – English press compartment
Please note that the picture is only for web! For printable images please contact Ms. Kipphan:
anika.kipphan@herthundbuss.com
Firmenkontakt und Herausgeber der Meldung:
Herth+Buss Fahrzeugteile GmbH & Co. KG – English press compartment
Dieselstraße 2-4
63150 Heusenstamm
Telefon: +49 (6104) 608-0
Telefax: +49 (6104) 650-75
http://www.herthundbuss.com
Ansprechpartner:
Anika Kipphan
Telefon: +496104 608268
E-Mail: anika.kipphan@herthundbuss.com
Für die oben stehende Pressemitteilung ist allein der jeweils angegebene Herausgeber (siehe Firmenkontakt oben) verantwortlich. Dieser ist in der Regel auch Urheber des Pressetextes, sowie der angehängten Bild-, Ton-, Video-, Medien- und Informationsmaterialien. Die United News Network GmbH übernimmt keine Haftung für die Korrektheit oder Vollständigkeit der dargestellten Meldung. Auch bei Übertragungsfehlern oder anderen Störungen haftet sie nur im Fall von Vorsatz oder grober Fahrlässigkeit. Die Nutzung von hier archivierten Informationen zur Eigeninformation und redaktionellen Weiterverarbeitung ist in der Regel kostenfrei. Bitte klären Sie vor einer Weiterverwendung urheberrechtliche Fragen mit dem angegebenen Herausgeber. Eine systematische Speicherung dieser Daten sowie die Verwendung auch von Teilen dieses Datenbankwerks sind nur mit schriftlicher Genehmigung durch die United News Network GmbH gestattet.