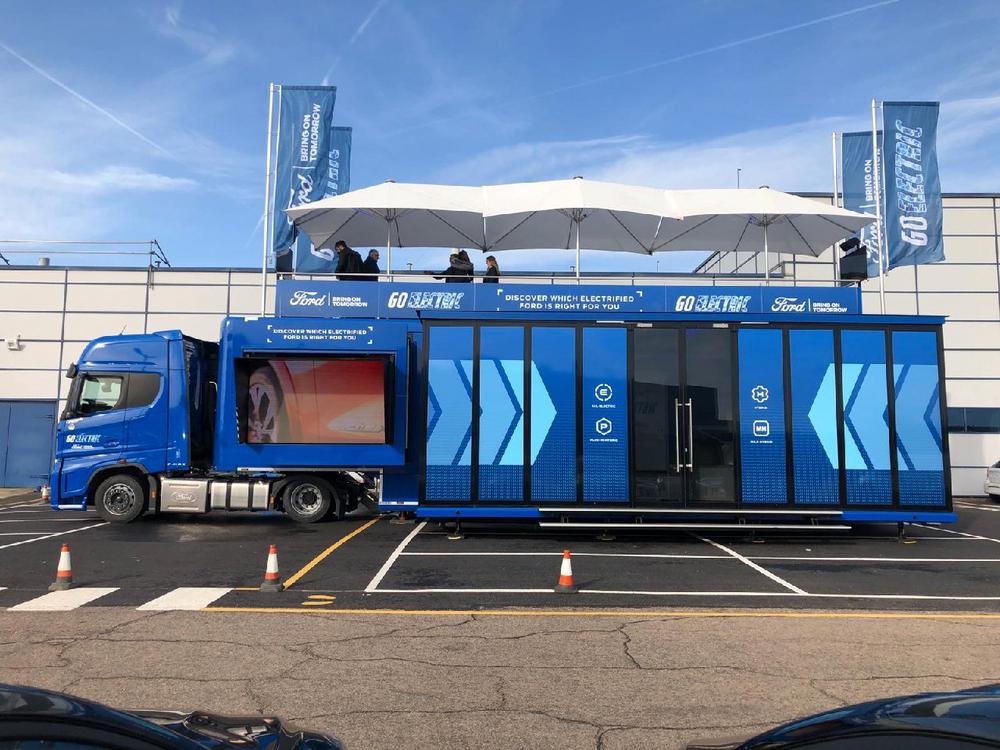 Schuler delivers a new Promotion and Event Truck for the FORD UK campaign "Go Electric"
Schuler Trucks produces individual mobile architecture for Motorsport and for brand companies. With a unique reputation in Motorsport, SCHULER has also been a reliable and supportive partner in the areas of Mobile Showrooms, Motorhomes, Hospitality, Promotion Trailers and extraordinary special projects for many years.
The SCHULER MOBILE SHOWROOM SMS 100 for the "Ford GO-Electric-Roadshow" offers a variety of set-ups in the interior. It serves as a hospitality and lounge bar for VIP events. A car can even be presented in a trailer for presentations of new vehicle models. The mobile unit can also be used as a training truck regardless of the location. And of course as a communication and marketing tool for all events that can currently take place as a replacement for trade fair appearances.
With the new FORD-GO ELECTRIC TRUCK, a digital adventure park for Ford e-mobility using displays and touch panels from SCHULER Fahrzeugbau GmbH was installed inside. With its own interior manufacture, the Schuler team can respond to individual customer requests and implement them satisfactorily.
The new combination for FORD UK consists of a Ford tractor unit and a Schuler promotion trailer with a total length of 16.5 m and 30 tons. Both sides can be folded out and expand to a size in the width of 2.50 m when closed to a total width of 11 m. The setup time is set up by a SCHULER truck manager in 1-3 hours and can be used in all seasons. A roof terrace with a capacity of 30 people rounds off the marketing concept.
The equipment and services of the truck are huge with a 125 m2 communication and presentation area and the interior impresses with a capacity of up to 70 people. The full options include high-quality and user-friendly media technology, entertainment, lighting technology and WiFi connection for the digital world.
The large integrated LED wall next to the main entrance can be used with any content.
The roadshow expert SCHULER takes over the services such as truck management, set-up and dismantling, technical support and transport for its customers with its "Trucking Full-Service Package".
The advantage of such roadshow trucks from SCHULER. They can be used flexibly, regardless of location and impress with their functionality: the SCHULER promotion trailers are particularly suitable for outdoor and temporary events, but these mobile units also offer many possibilities indoors as a visual highlight.
The "FORD Go Electric" Road Show started in 2020 and will reach millions of people in Europe over the next few years.
More information about the FORD GO ELECTRIC ROADSHOW:
The Ford Go-Electric Roadshow is touring through Great Britain. This interactive exhibition is designed to answer any questions you might have about switching to electric cars and allay your fear of range. Learn how to plug in and charge, the benefits of living with an electrified vehicle, and which vehicle is best for your personal and / or business needs. Learn all about the science of electrification technology and how you can reduce your CO2 emissions and engine running costs.
Über die Schuler Fahrzeugbau GmbH
SCHULER OUTSTANDING MOBILE SOLUTIONS
SCHULER Fahrzeugbau GmbH has been planning, designing and realizing targeted individual and technically innovative solutions in the special vehicle construction segment for over 27 years.
Schuler Fahrzeugbau produces individual mobile architecture of the highest quality. These highest demands on mobile architecture are satisfied with extraordinary skills in the craft.
SCHULER TRUCKS offers your customers outstanding quality solutions for a wide variety of mobile tasks.
Having a unique reputation in motorsport, SCHULER TRUCKS has been a reliable and supportive partner in the areas of mobile showrooms, motorhomes, hospitality, promotion trailer and extraordinary special projects since many years.
Made in Germany is lived by all employees. The company with 70 employees produces the unique items carefully by hand at two locations in the northern Black Forest and delivers to customers worldwide.
Firmenkontakt und Herausgeber der Meldung:
Schuler Fahrzeugbau GmbH
Uferstraße 21
72224 Ebhausen
Telefon: +49 (7458) 98980
Telefax: +49 (7458) 989819
http://www.schuler-trucks.com
Ansprechpartner:
Ulrike Ketterer
Sales & Marketing
Telefon: +49 (7458) 989848
E-Mail: ulrike.ketterer@schuler-trucks.com
Für die oben stehende Pressemitteilung ist allein der jeweils angegebene Herausgeber (siehe Firmenkontakt oben) verantwortlich. Dieser ist in der Regel auch Urheber des Pressetextes, sowie der angehängten Bild-, Ton-, Video-, Medien- und Informationsmaterialien. Die United News Network GmbH übernimmt keine Haftung für die Korrektheit oder Vollständigkeit der dargestellten Meldung. Auch bei Übertragungsfehlern oder anderen Störungen haftet sie nur im Fall von Vorsatz oder grober Fahrlässigkeit. Die Nutzung von hier archivierten Informationen zur Eigeninformation und redaktionellen Weiterverarbeitung ist in der Regel kostenfrei. Bitte klären Sie vor einer Weiterverwendung urheberrechtliche Fragen mit dem angegebenen Herausgeber. Eine systematische Speicherung dieser Daten sowie die Verwendung auch von Teilen dieses Datenbankwerks sind nur mit schriftlicher Genehmigung durch die United News Network GmbH gestattet.