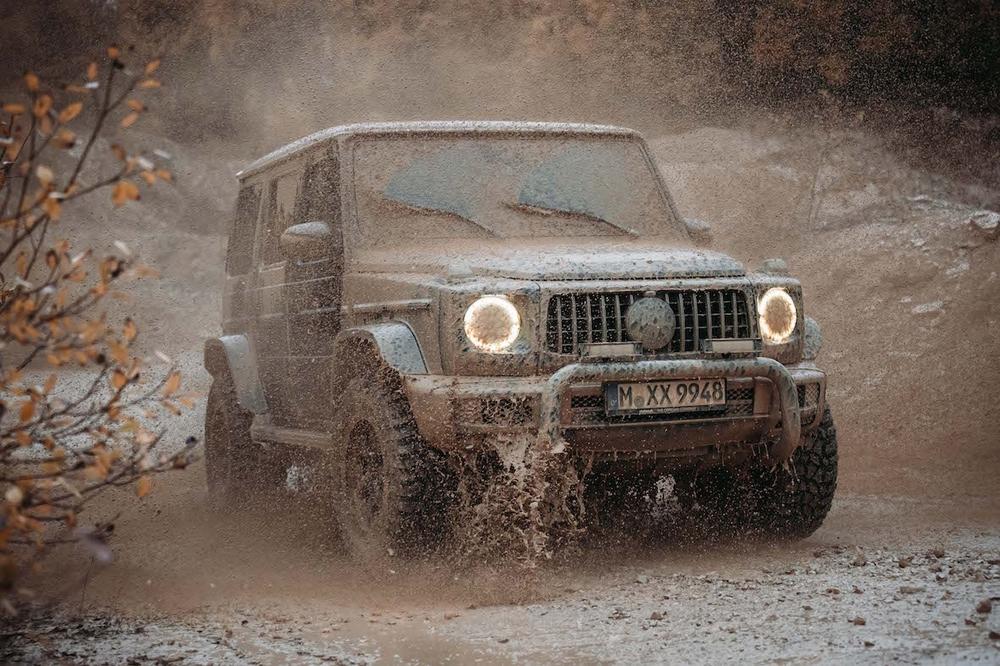 The king is dead, long live the king! – the Mercedes G-Class
.
History that connects
delta4x4 and the Mercedes G Class go way back. Josef Loder, delta4x4's company founder and his then team mate Alois Schneck, manned the BMW motorbike team support vehicle a 280GE Puch in the 1985 Dakar Rallye. It turned out to be one of the toughest rallies in the history of the "Dakar", with almost 80% of the vehicles breaking down. 14,000km later the two G-Classes successfully crossed the finish line. It's of little wonder that his son Maximilian Loder too got bitten by the bug, in 2013 he traversed Africa from west to east in a Mercedes G 350.In 2018, when the new G-Class was presented, the off-road specialist took on the vehicle directly as a tuning object.
With a clear goal
The delta4x4 Offroad Package for the Mercedes G-Class follows a clear maxim: Increasing off-road capability.
What immediately captures the eye are the 80mm wheel arch extensions on the front and rear axles. The aim here was to design the wheel arch extensions in such a way that they blended harmoniously into the vehicle design. In conjunction with the new Bilstein suspension kit (50mm raise) and the in-house 50mm body lift kit, there is now room in the wheel arch for matching Offroad tires 35×12.5R20 or 315/60R20 from Mickey Thompson, Cooper and Yokohama. Thanks to the Bilstein suspension kit and the delta4x4 body lift kit the vehicle has 80mm more ground clearance at the front and 50mm more space under the rear axle. This increases the ground clearance to around 290mm and greatly enhances the off-road capability of the vehicle. The slope angle is increased to approx. 35° at the front and rear. The overall result of the chassis modifications is that the G grows to an impressive 215cm in height. The expedition-ready roof rack coated in matt black and the front bar in stainless steel or matt black make the off-roader look even more spectacular and underline its regal appearance.
Hard Facts – What delta offers for the G-Class:
Suspension lifts: 50SSK: Together with Eibach, delta has developed a 50mm spring kit for the new G-Class.
50BLK: delta offers a 50mm body lift kit: with a body lift kit the vehicle is raised with the help of distance blocks and struts. Both lifts can be combined.
Wheel arch extensions: For the conversion to larger wheels, it is necessary to install wider wing flares. Delta supplies wheel arch extensions that are 40mm wider than the AMG G63 extensions.
Roof rack: Extremely robust expedition-proven roof rack with many special functions for mounting accessories such as expedition boxes, canisters, sand sheets, roof tents and tools. Can be supplemented with ladder and spare wheel carrier
Front bar: Stainless steel front bar, suitable for mounting headlights and protecting the bumper and radiator. Available in black coated stainless steel and polished stainless steel. Approved according to EC directives.
Wheels and tires: Wheels in 18inch: Klassik B 18inch with Flange-Lock Ring, a protective ring that protects the rim flange and can be replaced. For tires up to 285/60R18 and 305/60R18.
Legacy Forged, one-piece forged alloy wheel in 18×9 – The finest technique in wheel manufacture, one-piece forging gives the wheels maximum strength with minimum weight. No other rim design offers this combination, which has proven so important for automotive engineering – be it the multi-part aluminum wheels, or aluminum rims manufactured in a stretching process, or wheels made of highly tempered steel. Accordingly, delta4x4 has relied on forging technology for the production of its high-class alloy wheels for two decades. With the new forged "Legacy Forged", the southern German wheel specialists now present another highlight in wheel technology. Thanks to its high strength, this alloy rim has a load capacity of up to 1,850 kilograms at a weight starting at 9.9 kilograms – which brings serious advantages in terms of smooth running, energy consumption and driving safety. After all, the rims count as dead weight on the vehicle, so the lower weight of forged rims (up to 50 per cent lighter than conventionally cast aluminum rims in the same format) leads to fuel savings, while the complex finishing on CNC equipment guarantees perfect concentricity for forged rims – all of which adds up to a noticeable plus in smoothness and driving safety.
Wheels in 20inch: Lander in 20×9 and Klassik B 20×9.5 with Flange-Lock ring, a protective ring that protects the rim flange and can be replaced. For tires from 275/55R20 and 285/55R20 to 275/60R20; 285/60R20 as well as 305/55R20
Wheels in 22 inch: Lander in 22×9 for tires from 275/45R22 and 285/45R22 to 305/45R20 as well as 295/50R22
Wheels in 23 inch: Elements4 in 23×11 for tires from 305/35R23 and 305/40R23
Beadlock wheels in 20 inch: Force 20 Casted and Forged, newly developed forged two-piece beadlock wheel in 20×9 and 20×9.5
Firmenkontakt und Herausgeber der Meldung:
delta4x4 Geländesport und Zubehör Handels GmbH
Dorfstraße 20
85235 Odelzhausen
Telefon: +49 (8134) 9302-0
Telefax: +49 (8134) 6112
http://www.delta4x4.com
Ansprechpartner:
Ralph D. Niese
Inhaber / Automotive PR
Telefon: +49 (171) 9787471
E-Mail: r.niese@rdn-pr.com
Für die oben stehende Pressemitteilung ist allein der jeweils angegebene Herausgeber (siehe Firmenkontakt oben) verantwortlich. Dieser ist in der Regel auch Urheber des Pressetextes, sowie der angehängten Bild-, Ton-, Video-, Medien- und Informationsmaterialien. Die United News Network GmbH übernimmt keine Haftung für die Korrektheit oder Vollständigkeit der dargestellten Meldung. Auch bei Übertragungsfehlern oder anderen Störungen haftet sie nur im Fall von Vorsatz oder grober Fahrlässigkeit. Die Nutzung von hier archivierten Informationen zur Eigeninformation und redaktionellen Weiterverarbeitung ist in der Regel kostenfrei. Bitte klären Sie vor einer Weiterverwendung urheberrechtliche Fragen mit dem angegebenen Herausgeber. Eine systematische Speicherung dieser Daten sowie die Verwendung auch von Teilen dieses Datenbankwerks sind nur mit schriftlicher Genehmigung durch die United News Network GmbH gestattet.