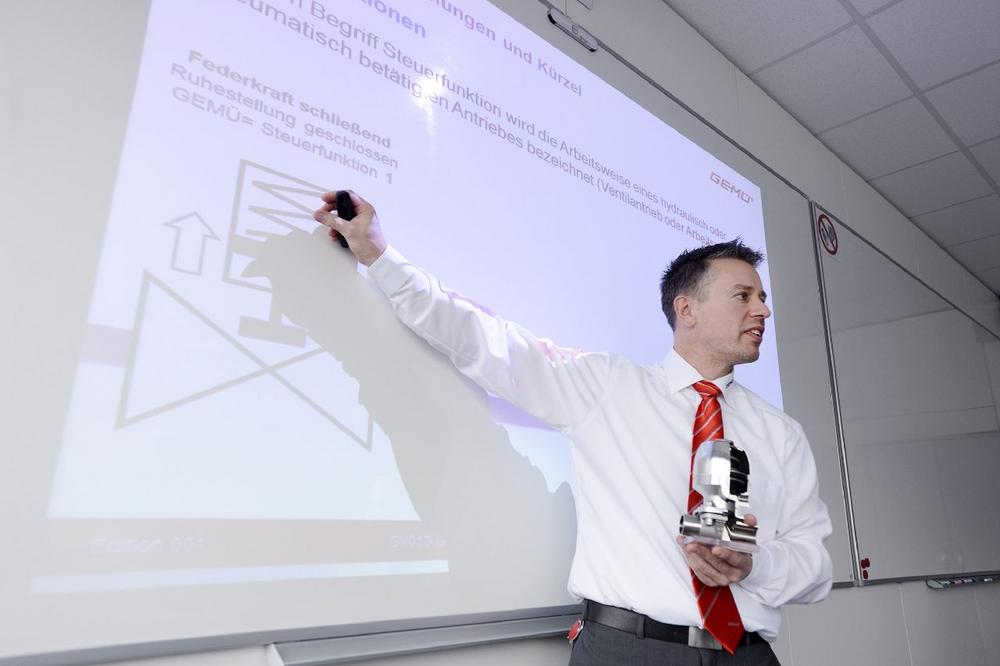 Training courses available for valves, measurement and control systems have been expanded and online versions have been added
GEMÜ, the valve manufacturer based in Ingelfingen in Baden-Württemberg, have expanded their wide range of avaiable training courses and have included current technical topics and new training methods.
GEMÜ has added the topics of explosion protection/ATEX and surface technology, as well other industry-related application topics, to its training content. Non-proprietary technical basic training such as materials engineering, pipe connectors, measurement and control systems, as well as functional principles of valves and their process-related selection, will continue to be offered without modifications.
The emphasis on application-focussed solutions and practical experience will be further developed in all training courses. A three-part learning stage concept provides all participants with knowledge on various levels matched to their requirements. The first knowledge level, the all-rounder, is aimed at young professionals and people changing careers, as well as employees working in plant design, construction and operation, and offers a sound general knowledge base. The concept is designed such that the training can provide even non-technicians a basis for gaining further expertise. The second knowledge level, the specialist, focusses on product and functional knowledge of valves for process engineering, as well as on measurement and control devices. Workshops and practical exercises on the functional model remove obstacles particularly in the area of valve control, and teach an application practice which ensures safety. The third knowledge level, the expert, is aimed at target groups who require comprehensive and detailed knowledge. The focus here is on fast and targeted fault analysis and troubleshooting in plants. The expert level also puts participants in a position to serve as valuable sources of knowledge for their colleagues in their day-to-day work.
The technical requirements of members of staff continue to be a factor even in times of COVID-19 – meaning there still exists a need for training. For this reason, GEMÜ has reorganised the majority of its events to enable them to take place online in the short term. The concept has proved highly successful both in Germany and worldwide; many training courses therefore now take place online as standard and have become an integral part of the training courses on offer. Online training courses have proved to be a valuable addition particularly for those topics which do not require participants to be physically present – they are not only more time-efficient, but also save travelling and overnight accommodation expenses. GEMÜ has adapted the approach of these online training courses accordingly, as this format causes participants to reach the limits of their concentration and receptiveness more quickly. For this reason, online courses are condensed to just the essential topics, and their duration is reduced to a maximum of four to five hours.
For plant operators, plant designers and maintenance companies, topics relating to preventive maintenance and repair work have proved to be particularly useful in adding value. Product- and user-specific practical training and qualifications for maintenance technicians and their technical contact persons are therefore among the most highly sought-after GEMÜ further training courses in the world.
The events take place in German and English and at fixed times at the training centre at the headquarters in Ingelfingen-Criesbach. Upon consultation, individual events can also be held on-site at any time for essential users. In the case of online seminars where participants are based in another time zone, GEMÜ will adapt the timing of training courses to their local time. This guarantees that participants can receive the training during their usual work time, ensuring the best possible results.
Those interested can find further information on GEMÜ and available training courses at https://www.gemu-group.com/en_EN/dates/
Über die GEMÜ Gebr. Müller Apparatebau GmbH & Co. KG
The GEMÜ Group develops and manufactures valves, measurement and control systems for liquids, vapours and gases. GEMÜ is a global market leader when it comes to solutions for sterile applications.
The globally focused, independent family-owned enterprise was founded in 1964. In 2011, Gert Müller took over as Managing Partner together with his cousin Stephan Müller, becoming the second generation to run the company. The Group achieved a turnover of over €330 million in 2019 and currently employs over 1900 members of staff worldwide, over 1100 of whom are in Germany. They have six manufacturing locations: Germany, Switzerland and France, as well as China, Brazil and the USA. Their worldwide marketing is carried out across 27 subsidiaries, coordinated from Germany. Thanks to a large network of commercial partners, GEMÜ is now active in over 50 countries on all continents.
Please visit www.gemu-group.com for further information.
Firmenkontakt und Herausgeber der Meldung:
GEMÜ Gebr. Müller Apparatebau GmbH & Co. KG
Fritz-Müller-Straße 6-8
74653 Ingelfingen-Criesbach
Telefon: +49 (7940) 123-0
Telefax: +49 (7940) 123-192
http://www.gemu-group.com
Ansprechpartner:
Ivona Meißner
Corporate Communication
Telefon: +49 (7940) 123-708
Fax: +49 (7940) 123-487
E-Mail: ivona.meissner@gemue.de
Für die oben stehende Pressemitteilung ist allein der jeweils angegebene Herausgeber (siehe Firmenkontakt oben) verantwortlich. Dieser ist in der Regel auch Urheber des Pressetextes, sowie der angehängten Bild-, Ton-, Video-, Medien- und Informationsmaterialien. Die United News Network GmbH übernimmt keine Haftung für die Korrektheit oder Vollständigkeit der dargestellten Meldung. Auch bei Übertragungsfehlern oder anderen Störungen haftet sie nur im Fall von Vorsatz oder grober Fahrlässigkeit. Die Nutzung von hier archivierten Informationen zur Eigeninformation und redaktionellen Weiterverarbeitung ist in der Regel kostenfrei. Bitte klären Sie vor einer Weiterverwendung urheberrechtliche Fragen mit dem angegebenen Herausgeber. Eine systematische Speicherung dieser Daten sowie die Verwendung auch von Teilen dieses Datenbankwerks sind nur mit schriftlicher Genehmigung durch die United News Network GmbH gestattet.