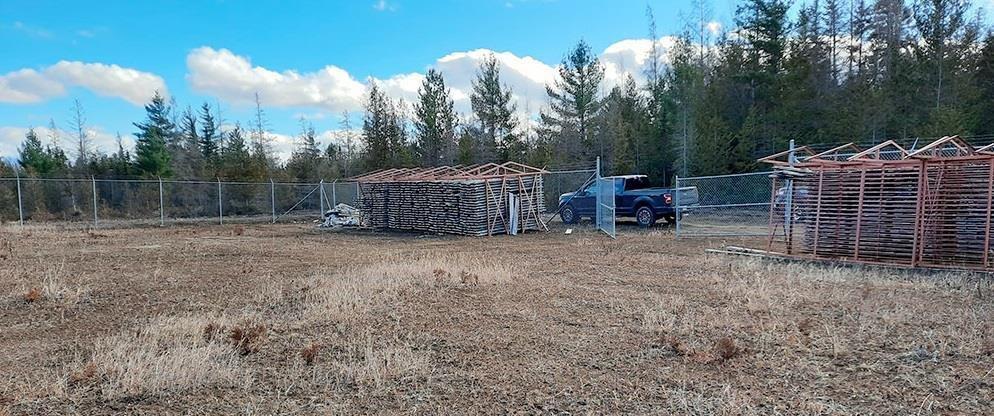 Vior Receives Strong Sampling Results Up to 274.9g/t Au; Commences Drilling Soon
Vior (TSXV:VIO)(FRA:VL51)  currently has an attractive project portfolio, a prospective flagship gold project, capital structure and high-quality core investor base for its market capitalization. The stock has consolidated on improving trading volume since February 2021 and is at an attractive entry point for new investors. Based on its current market capitalisation, Vior seems to be one of the better risk/reward exploration plays in the sector. Cash and investments at $4M, its outstanding portfolio of projects, the flagship project Belleterre which contains the historic Belleterre Mine (produced 750koz Au @10.7g/t and 95koz Ag between 1936 and 1959) with recent and excellent sampling results (up to 274.9g/t Au), safe jurisdiction (Quebec), strong management team and cornerstone investor base including Osisko Mining are all arguments that support the investment thesis. It is anticipated that strong drill results, positive gold price movements and potential asset sales/spin-off are potential catalysts which could drive the price higher throughout the balance of 2021.
Investors are encouraged to review the Key Points at the end of this article for a quick snapshot of the company.
Introduction
Not often do you see a junior explorer consolidating prospective grounds in the backyard of Osisko companies the way Vior Inc. (TSXV:VIO)(FRA:VL51) has. This Montreal based explorer has assembled some impressive property packages, most notably their flagship Belleterre gold project and Skyfall project (on trend with Osisko's Windfall gold project), both in Quebec. Belleterre has been consolidated into an impressive 291 sq km land package (531 claims), as the company recently negotiated an Option agreement to acquire up to 75% ownership from Osisko Mining Inc. for the last significant piece of the historic Belleterre mining camp.  Vior raised C$2.4M on March 31, 2021, and recently announced strong gold. sampling results at Belleterre. All but one sample contained gold, and 20 out of 38 samples returned gold values above 10g/t Au, with the three highest grade samples coming in at 274.9g/t Au, 121.3g/t Au and 77.4g/t Au. These impressive results validate 10 historic gold showings, and confirm the high exploration potential at Belleterre.
 After a month of field exploration at Skyfall, which included till and grab samples, the company is expecting results this Fall. The success of the results will dictate the next steps in the exploration process. Management's expectations are high and the next phase could include the generation of drill targets. Vior also has an equity investment in Ridgeline Minerals Corp (TSXV:RDG) valued at C$1.82 million. Ridgeline is exploring 4 highly prospective gold projects in Nevada and plans to spend over C$5M on exploration in 2021.  
There are 72.94M shares outstanding (fully diluted 92.79M), 14.87M warrants (@C $.15 to C$0.30 and expiring in July/2022 and March/2023) and several option series to the tune of 4.98M options in total, the majority priced at C$0.10 and $0.13 and expiring in 2024 and 2027.  Vior has a current market capitalization of C$15.32M based on the September 17, 2021 share price of C$0.21. 
Vior Inc, 5 year timeframe (Source: tmxmoney.com)
The current cash position of Vior is approx. C$2.2M, and the company is looking to raise more soon. The all-in cost of diamond drilling in the lower Abitibi region of Quebec is extremely cheap at approx.  C$160/m. In addition, there are significant tax incentives for Flow Through capital raises dedicated to exploration in Quebec. Vior is looking to raise another C$1M+ sometime this Fall, as it prepares to commence drilling on their Belleterre project in early November, 2021. Management holds no less than 16% of the current shares outstanding (CEO Fedosiewich holds approx. 10.5%), close strategic holders own approx. 30%, and the company also enjoys approx. 16% institutional ownership (including SIDEX, a Quebec sponsored junior exploration fund, FTQ, the labour sponsored pension fund and 2 other regional Quebec based funds). Osisko Mining owns a 6.7% non-diluted position.
Management
President and CEO Mark Fedosiewich: 35 years of experience in investments and mining. Former First Vice President of CIBC, very extensive business network.
Chairman Claude St-Jaques: Founder of Vior, Mazarin and Virginia Gold Mines, also has a strong network. Very close to the Osisko team.
Executive VP : Laurent Eustache: Professional geologist with 15 years of progressive experience including Agnico-Eagle Mines , Aurizon Gold Mines and as former Portfolio Manager at SIDEX ($100M + AUM)
Projects
Vior owns a portfolio of ten projects, however, it's exploration focus is clearly on the Belleterre and Skyfall projects as mentioned. The Company also views the Ligneris project as a strategic asset in the portfolio as it comprises a near district scale gold rich VMS target and is located near Amex' Perron project. A disciplined approach and strategy has been deployed to acquire their recent projects, and these need to comply with the following strict criteria:
Safe and mining-friendly mining jurisdictions
In close proximity to an existing mine, historic mine or an advanced project
Good infrastructure nearby and easy accessibility
Project potential to go from an early to a more advance exploration stage
Nine out of Vior's 10 projects are located in Quebec, one of the most mining friendly jurisdictions worldwide. Vior also has their early stage Tonya project in Nevada, USA,  which is the top ranked jurisdiction according to the Fraser Institute Survey.
Belleterre Project
The current focus for Vior is clearly locked on their flagship Belleterre property. After consolidating the last and central piece of the puzzle, the company has assembled a district-scale land package with a strike length of 37km:
This land package has never been consolidated on this scale before, is located on a Greenstone Belt with favorable mafic volcanics, includes the historic high grade Belleterre Gold Mine (produced 750koz Au @10.7g/t and 95koz Ag between 1936 and 1959), has good infrastructure and has several gold milling facilities with available capacity nearby, and the entire area is very underexplored ever since. Adding to this, previous drilling did not exceed 250 meters. Notwithstanding this, numerous gold showings have been detected in limited sampling in the recent past (2019). Vior has completed several reconnaissance exploration programs this year, among those an airborne magnetic survey in May, and field work in July and August with the aforementioned, impressive sampling results.The company has also recently completed a validation of the historical data at and around the former Belleterre Gold Mine which will help in completing their new 3D Model. This compilation and validation work will assist in better defining priority targets for an upcoming 4,000m drill program that will commence in November 2021.
The Belleterre project is, aside from the majority of the claims already 100% owned by Vior, largely subject to 3 Option agreements: with JAG Mines Ltd, 9293-0122 Quebec Inc. and Osisko Mining Inc. The Option with JAG allows Vior to acquire 100% of this specific land package for C$2.3M in cash and/or shares, and C$2M in exploration expenditures, over the course of 4 years, with C$2M of the C$2.3M in cash or shares scheduled for the last year, representing very little payment obligations until June 31, 2025. JAG holds the equivalent of a 1% NSR over the property.
The purchase option with 9293-0122 Quebec Inc, which covers the Belleterre Gold Mine and its direct surroundings, allows Vior to purchase a 100% interest, by paying C$2.1M in cash and/or shares before 2023 year end or thereabouts, and with no exploration expenditures. There will be no royalty involved on these claims. This purchase option was arranged during the main consolidation acquisition phase for the Belleterre project, when numerous other claims were acquired from other parties. Most of these parties were granted a 1% NSR, and Globex was granted a 2% gross metal royalty.
The option agreement with Osisko Mining allows Vior to acquire up to 75% of Osisko's current interest in their Belleterre properties (see above at the map claims Osisko in black). 51% can be acquired by issuing C$225k in shares over 3 years and by incurring C$1.25M in exploration expenditures before August 2024. Vior has the right to acquire another 24% by incurring another C$1.75M in exploration expenditures within 3 years after exercising the 51% option. No royalty is part of this deal, unless the interest of one of the JV partners drops below 10%.
The most impressive feat for me is that Vior managed to consolidate this entire district play right under the nose of Osisko Mining, as Osisko was obviously interested. Maybe Osisko didn't have the best negotiation position with all the vendors, as a rising gold price and a big name probably drives up prices to the point that Osisko decided to wait, and focus on other projects. A small stake in the project, and an equity stake in Vior might prove to be an interesting alternative for Osisko.
Skyfall project
The second most important project for Vior is the Skyfall project, also located in Quebec. This is an equally large land package of 26,758 ha (260.6 sq km), and 100% owned by Vior. It is located adjacent to the East of the Windfall deposit (6M+ oz Au resource, owned by Osisko Mining), and the Gladiator and Barry deposits (combined 2Moz Au resource, owned by Bonterra). Management could consider doing a JV with players in the area which include Osisko and Bonterra.  The interesting thing is that this package covers the eastern extension of the Urban-Barry Greenstone Belt, and is very under-explored, due to limited land access until a few years ago. As can be seen, it isn't directly next door to Windfall but the geologic makeup of the property (Greenstone) combined with the inclusion of a major fault zone and gold showings makes this land package at the very least reasonably prospective for gold exploration.
A till sampling program from March of this year provided lots of gold samples, and on top of this 7 clusters were identified which created lots of enthusiasm with company geologists and management, but unfortunately this type of sampling cannot be translated or extrapolated into g/t Au samples, so there is gold, but how much exactly will have to be verified by standard sampling first. The till sampling results can be seen on this map:
Vior commenced field exploration in May of this year on Skyfall, and completed this program in August. It consisted of prospection, mapping, stripping, channel sampling and more till sampling. The company expects to release results from their Skyfall field program when received this Fall. These results will determine the next phase of exploration which may include drill target generation.
Other projects
Vior sees their Ligneris project in Quebec as their third priority, and has budgeted C$250k for exploration expenditures. It was optioned out to Ethos Gold Corp, but they decided to return it to Vior for a compensation of 1M Vior shares (plus 1M full 3 year C$0.30 warrants, for exploration expenditures incurred) in April of this year, as 2020 drill results did not generate sufficient economic grades, after historic drilling returned impressive results like 13.5g /t Au over 10.5m, 62.1 g/t Au over 2.9m and 5.1g/t Au over 5.9m.
Other projects which will see limited exploration (sampling) this year are Mosseau and Mirabelli (both in Quebec) and Tonya (Nevada, US), of which Mosseau has already seen some drilling in 2017 by Vior, intercepting 2.93g/t Au over 4.5m from 40m and hosting an approx. 40,000 oz Au non-compliant resource.
Key points
Vior seems to be making a fresh start, after advancing several lower-profile projects in the last 5 years. It is now focusing all of its new energy on two impressive district-scale land packages, being Belleterre which surrounds a historic former high grade mine, and Skyfall, which is on trend with a large fault that hosts the Windfall, Gladiator and Barry deposits.
The company has just recently completed the consolidation of the Belleterre Mine region, by arranging an option agreement with Osisko Mining Inc.
The region has been very underexplored even though it hosts a historic gold mine and many gold showings. Management believes that there is significant exploration potential at Belleterre. Skyfall is even less explored, but the geological conditions are favorable.
Vior just announced stellar gold sampling results at Belleterre, with results up to 274.9g/t Au.
Drilling at Belleterre is about to commence in November 2021, the first results will come out in January 2022. An initial drilling program at Skyfall is likely sometime in 2022.
Vior is backed by Osisko Mining, and a few powerful Quebec institutions. Adding to this are the CEO and Chairman with their large networks in mining finance, so money will likely not be a problem.
Vior management is very much aligned with shareholders, as CEO Mark Fedosiewich owns approximately 10.5% of outstanding shares.
A wildcard for Vior is their early investment in Ridgeline Minerals, which could provide lots of cash in case of a re-rating, potentially caused by exploration success in Nevada.
As with all early stage explorers, chances of success are almost binary. In the case of Vior there are several chances for a discovery, and with Belleterre lots of brownfield exploration could lower the risks considerably. And I wouldn't underestimate Skyfall or their investment in Ridgeline either.  Stay tuned!
Follow progress of Vior here on social media:
Twitter: twitter.com/semVior
Linkedin: linkedin.com/company/Vior-inc
This article is also published on www.criticalinvestor.eu. To never miss a thing, please subscribe to my free newsletter, in order to get an email notice of my new articles soon after they are published.
Disclaimer: 
The author is not a registered investment advisor, and currently has a long position in this stock. Vior Inc. is a sponsoring company through a third party. All facts are to be checked by the reader. For more information go to www.Vior.ca and read the company's profile and official documents on www.sedar.com, also for important risk disclosures. This article is provided for information purposes only, and is not intended to be investment advice of any kind, and all readers are encouraged to do their own due diligence, and talk to their own licensed investment advisors prior to making any investment decisions.
Firmenkontakt und Herausgeber der Meldung:
Swiss Resource Capital AG
Poststrasse 1
CH9100 Herisau
Telefon: +41 (71) 354-8501
Telefax: +41 (71) 560-4271
http://www.resource-capital.ch
Ansprechpartner:
Jochen Staiger
CEO
Telefon: +41 (71) 3548501
E-Mail: js@resource-capital.ch
Für die oben stehende Pressemitteilung ist allein der jeweils angegebene Herausgeber (siehe Firmenkontakt oben) verantwortlich. Dieser ist in der Regel auch Urheber des Pressetextes, sowie der angehängten Bild-, Ton-, Video-, Medien- und Informationsmaterialien. Die United News Network GmbH übernimmt keine Haftung für die Korrektheit oder Vollständigkeit der dargestellten Meldung. Auch bei Übertragungsfehlern oder anderen Störungen haftet sie nur im Fall von Vorsatz oder grober Fahrlässigkeit. Die Nutzung von hier archivierten Informationen zur Eigeninformation und redaktionellen Weiterverarbeitung ist in der Regel kostenfrei. Bitte klären Sie vor einer Weiterverwendung urheberrechtliche Fragen mit dem angegebenen Herausgeber. Eine systematische Speicherung dieser Daten sowie die Verwendung auch von Teilen dieses Datenbankwerks sind nur mit schriftlicher Genehmigung durch die United News Network GmbH gestattet.